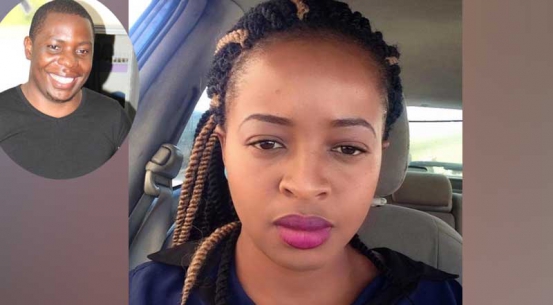 It is a script that would pass an audition for a juicy soap opera or a moving romantic movie that would make you cuddle on the couch to watch late, late into the night and still yearn for more.
Figure out this: A dashing young man asks you out for a date and you decline. He persists, but still you won't lend him a listening ear. Several years later, and before your unbelieving eyes, life opens up for him.
The man in question has hit a mega Jackpot – a cool Sh221 million. Well, this is not stuff made out of the movies, but the real story of Samuel Abisai, the happy-go-lucky kid who won the SportPesa mega Jackpot two weeks ago and the strikingly beautiful lady in Carol Morara.
If what Moraa posted on her Facebook timeline several days ago when news of Abisai hitting the jackpot filtered through is to be believed, then Abisai, now aged 28, must have been 21 or thereabouts, and pursuing a bachelor's degree at the University of Nairobi.
Back then, the Kakamega-born Abisai must have been surviving on kales and the rationed ugali that is synonymous with campus life.
It was on July 22, 2011 at 11:44am — to be precise — that he first made a move on the gorgeous Moraa. His first move was a simple word, "Mambo?" through a Facebook chat, but to which the disinterested Moraa never bothered to respond to.
Abisai, still nursing his ambitions, tried his luck a second time, this time making another subtle attempt on July 22, 2011 at 9.57am hoping to warm his way to Moraa's beautiful heart. Again, he in-boxed Moraa: "mambo". His efforts were however met with a deafening silence from the seemingly uninterested beauty queen.
Fast forward, seven years later, Abisai is the talk of town and the envy of every woman after hitting the jackpot. It is during this time that Moraa retrieved the past chat and posted it on her timeline; "A moment of silence to the guys we snob." Moraa's post sent social media into a frenzy and since then, she's become a 'celebrity.'
The Nairobian caught up with her for an interview. She is still as elegant as she probably was seven years ago when she made Abisai's heart throb with passion. She is soft-spoken, graceful, measures her words carefully and comes across as a good soul.
"Strangers have been in-boxing me, some with insults. Others feel I'm a gold-digger – that is the perception that came out – that I ignore broke people or something like that. Many feel that time when he was broke, I was not willing to talk to him, but now that he's got money, I'm interested," she said.
"Nothing can be further from the truth. I just posted it like that, I had no ulterior motive, no goal whatsoever," she says, breaking into a hearty laughter.
"I first learnt of him winning (the jackpot) on TV and that is when I retrieved the messages and posted them. Before I knew it, it was everywhere. My dad was the first person to call me (when he learnt that I was trending on social media).
He asked me what was going on... and was concerned," she said, adding that: "I also talked to my mum." Asked why she passed on the chance to go out with the now young millionaire and whether she would consider seeing him now, Moraa becomes thoughtful but gives a straight answer: "You know, those days I didn't really know him well, but he was a businessman. He had a shop where he sold ladies' stuff, and I was one of his customers because his attires were cheap compared to other shops."
I then follow up on my previous question: Would you date him now, given a chance? "If I agree to see him, it would not be because of his money," she says, "No! It would depend on other factors, but generally I think he is a good person if what I've seen him say on interviews is anything to go by. He explained his background; that he is from a poor family. I didn't know that previously. He comes across as someone who has good ideas and I hope he would use it to improve his business. Sh221 million may seem like a lot of money, but if he doesn't invest and spend it wisely, then it may not be a lot as people think," Moraa says.
On the other hand, Abisai, in an interview with a popular entertainment programme with one of the local television stations, did admit to having made advances on Moraa but was quick to point out that it's now all in the past.
Moraa was also quick to defend herself: "I'm a good person. If you look at me, don't I come across as one?" she said.
Moraa studied finance at the Jomo Kenyatta University of Agriculture and Technology (JKUAT).