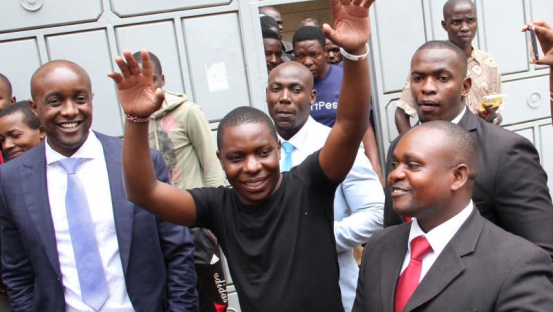 What would you do with Sh221milion? Go on a holiday trip to Maldives, buy a mansion, or buy a prime parcel of land in Karen?
Believe it or not, this is what one young Kenyan man, 28-year-old Samuel Abisai, is grappling with after winning a mega jackpot with bookmaker SportPesa. He's the first Kenyan to get hit the mega jackpot since it was introduced last year.
Abisai pocketed a cool Sh221,301,602 million after correctly predicting the outcome of 17 games listed for play by the gaming firm last weekend. His now is a rags to riches tale, hoping that the story will end at the 'riches' scene.
Born and raised in poverty — having come from a humble background in Sichlayi, Lurambi, in Kakamega County - Abisai knows how it feels to lack. But he is now basking in the glory of his newfound riches. It was a day of double-double for SportPesa — which has entrenched itself in the country as the leading betting firm after another youthful football fan, 24-year-old Mombasa-based Ahmed Ali, also won a Sh41million bet.
Ali could have shared the Sh221 million equally with Abisai — but he failed to correctly predict the outcome of one of the games.
Back to Abisai's narrative. The University of Nairobi graduate who studied Mandarin language at undergraduate level says he can hardly believe his luck.
"We had a tough time growing up and at the age of six, I was already exposed to the harsh life of the streets and was pushed by circumstances to hawk paper bags to survive," says the soft-spoken football fan who is a great supporter of Chelsea and Kakamega Homeboyz FC.
At home in Lurambi, matters were not helped by the fact that in their poor family, they were 12 children - four boys and eight girls.
"Our parents could not afford even to educate me. I was lucky to get sponsorship from an NGO run by a mzungu and so I'm very grateful," he says.
His elder brother Jack Abisai, 31, together with his other siblings accompanied him for the cheque presentation ceremony at a city restaurant.
Jack said that, "Our parents had no formal employment. They made sisal ropes, the ones used to tether cattle and that is how we survived." To give back to society, the overjoyed Abisai said he will sponsor the education of a child from a humble background.
"Mpaka sasa sijaload kwamba hii doo ni yangu. Itachukua muda. (Up to now the reality hasn't sunk in that this money belongs to me, it will take time," he said, adding: "We bet as a group with some of my friends, the likes Bernard and they'll definitely get a share."
Having stuck gold when least expected, Abisai says he'll give up betting. "I will go on holiday and relax, I haven't decided where, but I don't think I'll continue betting," he said, revealing that he will pump a fraction of his windfall in expanding his fledging tailoring business.
Abisai also intends to help develop sports and has identified an academy in his rural area which he will buy for training kits and jersey.