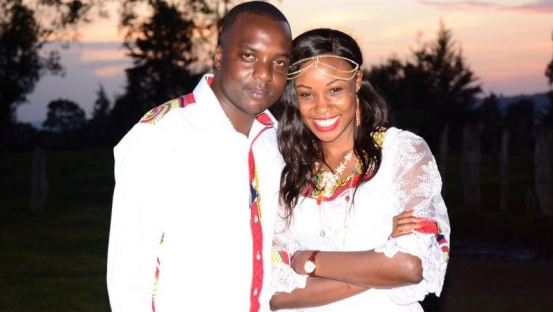 Mercy Cherono is the queen of long-distance races. But marital problems and 'professional curse' has seen her make one short sprint to Nigerian 'prophet,' the famous TB Joshua.
Clad in a fitting white silk dress and red kitenge bottom, the 2014 Glasgow Commonwealth Games silver medallist in the 5,000m, accepted the hand of Edmond Samoei in marriage on December 17, 2016.
Edmond had twice won Sh10 million and Sh21 million sports betting jackpots in a space of six months in 2016.  Their occasion was graced by champion athletes Eunice Sum and Janeth Jepkosgei.
But barely four months later in March 2017, a desperate looking Cherono appeared at the church of self-proclaimed prophet TB Joshua of Synagogue Church of All Nations (SCOAN) in Lagos. Nigeria, where preachers lay hands on her as they 'cast out demons' that had allegedly ruined her family and career prospects through injuries.
In a live telecast, the 2009 Most Promising Sportswoman of the Year in Kenya appears to be possessed. Ushers had to restrain her during the prayers that took place on Sunday, March 5 and 12 this year.
The athlete from Kipajit village near Sotik town had earlier confessed to Prophet Joshua how her marital woes worsened after her hubby declared interest to run for a political seat in the 2017 General Election.
"Let us hear what the demon inside this lady says," a commentator in the telecast is heard saying, as the said demons engage in an exchange with a female preacher.
The 'possessed' athlete who appears to be in a lot of pain as the 'demons' inside her are interrogated, says she destroyed her marriage and resigned to her injuries, which hampered her performance on track.
A female preacher questions the 'demons' possessing the athlete and demands to know why they chose her and how they entered her body. The response from the forces of darkness are chilling: "I want to make her suffer. I entered her through her friends."
TB Joshua then taps the athlete on her head and she falls on her back before getting up, arms raised. She shouts, "Thank you Jesus! I'm delivered, thank you Jesus!"
That was on March 5.
A week later and at the same church in Lagos, Cherono and her husband are paraded during 'Testimony Time,' which is the source of a 19-minute, 38-second YouTube video posted by the church, which shows the former student at Ngariet Secondary School in Sotik giving her testimony.
She is flanked by her husband, Edmond Samoei, who is holding a club and sporting a scarf with the Kenyan flag.
Following the release of the online video Cherono, it was claimed, had been going out with Jordan Guenther, an odiero dude, but they broke up after Edmond came into the picture.
"She and Jordan were an item and inseparable. He had even been sending some cash to the family of Cherono," said a colleague who is also an athlete.
The source narrated that the mzungu was in constant communication with Cherono's mother, who had allegedly assured Jordan that he would marry her daughter.
Cherono's colleague had warned Jordan against dating Cherono who apparently was in other relationships. "I personally contacted Jordan and cautioned him against getting serious in their relationship as I knew she was involved with other men," she told The Nairobian.
Jordan was recently in Kenya for a tour of the Maasai Mara and when contacted about the issue on Facebook, he declined to comment on the matter, and instead referred us to another athlete for details.
Jordan sent The Nairobian screenshots of a threatening message allegedly from Edmond Ng'etich, warning him to never set foot in Kenya again.
The message reads: "Hey Jordan. Be man enough. Be mature dude. Every person has a past. You shouldn't be stupid posting on social media about the past.
Kindly don't ever post anything concerning my family. You dare post again and I swear the moment you set your foot in Kenya, you will regret."
Asked about the screenshots, Cherono downplayed the entire incident saying, "How did you get this? He (Jordan) is out of his mind. Those messages are very old." Cherono said she forwarded the screenshots to her lawyer for legal advice and if necessary, she will take legal action.
Cherono wrote via WhatsApp: "I'm currently in Kericho and this is not a matter to write in the newspapers. It's my private life and not sports. I hope you get me right."