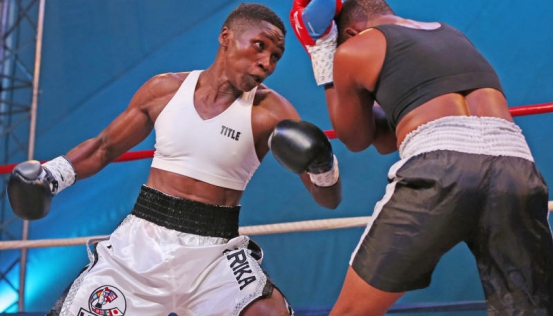 She once put marriage on hold to focus on her boxing career. But now, the mother of two is throwing every punch with her family in mind.
And when it took Fatuma Zarika less than 60 seconds and a few punches to send Tanzanian boxer Flora Machela tumbling on the canvas, her message couldn't have been clearer. "It's all for my two girls."
It has never been a cakewalk for the 31-year-old, who has been forced to dodge and duck the issue of femininity and religion.
"I don't agree with the perception that female boxers cannot get married or give birth. I am a boxer, but I also love taking care of my family. I also accord respect to everyone," says Zarika, who declined to comment on her marital status, terming it "private."
The pugilist added that: "Female boxers are like any other women. I am a proud and responsible mother who knows how to juggle the family and game. I have in the past talked about not prioritising marriage, as I was just starting out and needed to fully concentrate on my career. I however prefer to keep that part of my life private for now."
Zarika became the first Kenyan female boxer to win the World Boxing Council (WBC) Super Bantam weight title after defeating Jamaican defending champion Alicia Ashley in 2016.
She however decries the lack of support and recognition as major undoing for female boxing. She also singles out lack of sponsors and good will from stakeholders as major challenges.
"I have seen my fellow female boxers go through tough times, we all do, but my two daughters have been my strength. But I still believe that the status of female boxers will eventually change," she says.
Zarika admits that religion has affected her boxing career. She says that as a Muslim woman, boxing as a career is frowned upon.
"Despite the religious challenges, I have forged on and developed a thick skin to realise my dreams. I look at life from a different perspective and believe that everyone should follow his or her passion. I want to make my country proud and eventually, perceptions will change and more people will accept female boxers," she says.
Despite winning the WBC title several months ago, Zarika is yet to be paid for this feat.
The return match is scheduled for April 22 in Kenya, but her opponent, Ashley, says she will not honour the match unless it is staged in the United States of America.
"Ashley asked for a rematch, yet she is not willing to come and fight in Kenya. I believe it should be me choosing the venue, and so she should come and fight in front of my home fans in April. I will go to the USA, but only to train in preparation for the match," says Zarika.