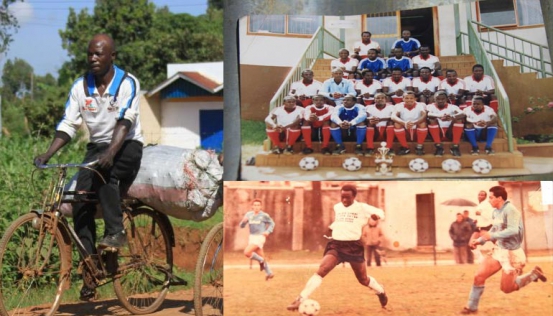 It is 9am in the morning. Residents of Langas estate in Eldoret on the sidelines of Eldoret town are already up, ready to face another day. Among them is Patrick Alfred Namai, a charcoal hawker.
Unknown to many — even his customers — Namai was one of the best football talents in the country back in the day.
It's been more than three decades since the former Harambee Stars defender exited the football scene, and with it, faded the memories of his footballing days.
Poverty and a daily fight for survival has become his companion, even as he struggles to provide for his family.
"I played football, good football, but luck was not on my side. If things had gone well, I would have become a star, even like our very own Victor Wanyama who captains Harambee Stars and plays for English Premier League Tottenham Hotspurs. But here I am, a poor man now selling charcoal," Namai said in an interview in his house.
Namai once turned up for the national football under-21 team in the 1980s and was a member of the national team that played in Italy in 1986. Today, however, he never attracts as much as a glance from people. His glorious past as a player for top clubs is now nothing but faded memory. The 'no-nonsense defender,' as he was popularly known back in the day, thrilled football fans locally and internationally.
As a student at Kakamega High School, Namai played with Belgium-based former Harambee Stars striker Mike Okoth in secondary school games and was a deskmate of Mining Cabinet Secretary Najib Balala.
Namai has an impressive footballing CV, having played for KCC Eldoret and Rivatex. He was also an employee of KCC and his woes actually began when the company went under. Now 46, and having also led the under-21 squad to Zambia, he decries the manner in which footballers are treated.
"It's not that we don't have good players. What we are lacking is respect for the players," says Namai.
Namai, a father of six, who was the team captain, blamed former Kenya Football Federation (KFF) for failing to offer job opportunities to some experienced players within the federation — despite the nation boasting a huge pool of talent that would have raised Kenya's soccer profile.
"During our time, football was like a hobby. But we were committed. Today however, players make a living out of it. Back then, we would play because we were proud of our country, nothing more," says Namai.
"I shared the field with senior world professional players like Paulo Maldini then of FC Milan among others, and that's why my children are named after these players. This happened because I had built a good rapport with football officials. They gave me the opportunity," he adds.
Namai attended Kapsaya Primary School in Uasin Gishu from 1976 to 1983, before joining Kakamega High School in 1983 to 1989, where he completed his A-Level while playing for the Ministry of Works FC.
He had a brief stint at the defunct Rivatex FC before moving to Eldoret Kenya Cooperative Creameries in 1991 to 1997. Eldoret KCC later went under and he lost his job. He now lives in Langas with his wife Rachael Chepsang and children.
"I want to make a humble request to the government, especially Tourism Cabinet Secretary Najib Balala who was my deskmate to help me out," he pleaded.