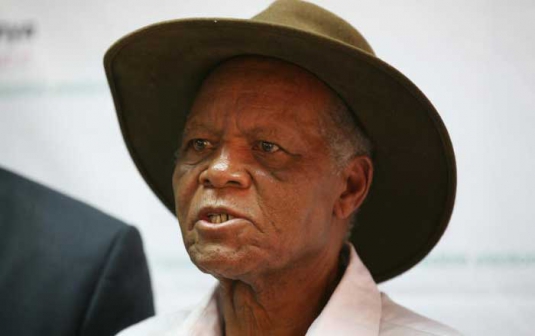 It was sad to watch soccer legend Joe Kadenge pleading for financial help for his medical bills.
Kadenge's case should not be looked at in isolation as he represents the ordinary Kenyan sports personality who has  never been recognised for his patriotic heroism.
It has happened to so many sports stars, and we are still counting. Dennis Oliech, Musa Otieno, Francis Onyiso and Jerry Onyango are some of the recent retirees.
 I can assure you that come old age, they will be treated like trash.  Unless they jipanga on their own, they will be in the same quagmire. Like most Kenyan footballers, Kadenge's is a story of rags to fame and back to rags.  
But current players have learnt the hard way from Kadenge-like stories and now try to balance academics and football.
It works very well for Michael Olunga, Brian Osumba, Eric Masika and Paul Kiongera. It  changed the retirements of Nahashon 'Lule' Oluoch, Dr Dan Shikanda, Zacheus Omondi, Dr William Obwaka, Dr JJ Masiga and Fred Awich.
Others like Victor Wanyama, his brother McDonald Mariga and Dennis Oliech, although they didn't climb the academic ladder, were lucky to have made their financial breakthroughs that saw them escape from the 'hell' that's Kenyan soccer.
I hope Collins 'Gattuso' and many others are watching closely, as it appears the earlier a player does so, the more they can avoid a Kadenge-like situation.
We are destined to be victims of lifestyle diseases after hitting 45. To some, it comes earlier. Kadenge is over 80 years old and that's why he recently appealed to the President Uhuru Kenyatta while referring to Mzee Jomo Kenyatta as his elder brother.
This is not the first time good old Kadenge is appealing for help. At some point, Kadenge was threatened with eviction when the Mariakani house in which he stays was targeted by land-grabbers.
Don't forget he has stayed in the same municipal flat for over 50 years.
So, what can 'Friends of Kadenge' do? Well, one can do what Sammy Sholei did - a one-off harambee for Kadenge. 
Friends of Kadenge can also organise 'Kadenge Na Mpira Charity Walk,' or a pre-2017 Kenyan Premier League soccer tournament with proceeds going to his medical kitty. The other option is having a round robin special 'Mashemeji Derby'.
Here, his former club, AFC Leopards, can re-adopt their original name, Abaluhya FC, and play Gor Mahia in a series of matches at Nyayo Stadium, Kasarani, Moi Stadium in Kisumu, Bukhungu Stadium in Kakamega, Afraha Stadium in Nakuru (where he started his career) and finally Mombasa Stadium. Again, all proceeds go to his medical and insurance fund — with governors as key guests.
'Brand Kadenge' can also be exploited through an integrated marketing mix with  souvenir merchandise  sold during these testimonial games.
Then there is John Nene's bio, Joe Kadenge: The Life of a Football Legend, a take on how he sacrificed personal ambitions for the beautiful game, and which can be turned into a documentary film with his sons Rogers, Evans and Oscar- who all have a striking resemblance to him — playing a younger Kadenge. 
The world is full of sports legends who made modest fortunes selling their stories to movie producers: Pele, Mohammed Ali, Maradona, Mike Tyson, Michael Jordan, David Beckham and Ronaldo.
Joe Kadenge can do the same and cash in on royalties and advance payment to alleviate his worsening condition.