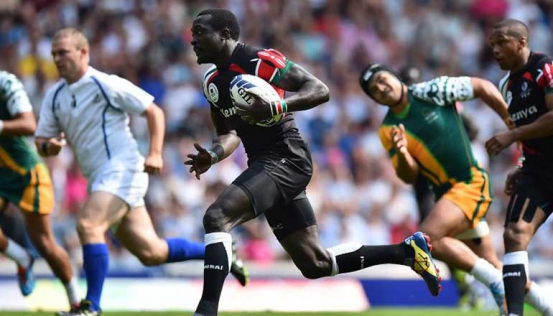 There is a new sheriff in town and, it is not business as usual at RFUEA Grounds along Ngong Road.
Innocent Simiyu, popularly known as Namcos, has a new broom and is not leaving anything to chance. So serious is the new Kenya Sevens Rugby head coach that disgruntled players who were left out have been seen burning the midnight oil just to and get a second chance.
Namcos started off by leaving out the big names and when the chosen few thought training sessions and tests were ordinary things, he read them the riot act and made it clear to them that they were all equal.
But how do you tell Andrew Amonde or the world's top try scorer Collins Injera that he is just as equal a player as little known Elton Isiaho (Strathmore), Aluda Beda (Kabras Sugar) and Derrick Mayar (Impala) who are receiving their maiden call-ups to the national team?
That was a close call and critics have told him to tread carefully with the egocentric Sevens' players. History shows that exceptional players tend to have problems with matters recognition and when you are working with living legends, the situational ego games could get complicated.
For two weeks, there was tension at Kenya Sevens camp over Injera's commitment to the team. Sources close to the team suggest that Injera had personal commitments elsewhere.
But who would blame Injera when the Union has not even offered the players any deal? The provisional squad could be in camp but none of the players is aware of their terms and fate.
Then there is the issue about bonus arrears from last season that is gradually creating unease amongst the senior players. It is just a matter of time before elite players refuse to take to the field.
Pressure from the veterans who were left out too cannot be ignored even as Richard Omwela, the Kenya Rugby Union chairman, seeks to restore hope to all players.
Omwela says he has identified some very good young talent that are the future of Kenya Sevens. "To the old guards, we cannot thank them enough for the duty that they have done to the country," Omwela said.
"We are working on available opportunities for them to come and offer their services at different capacities. Change happens all over the world, even New Zealand has a new coach. I would urge all Kenyans to support Namcos and the entire squad."
But the city lawyer did not take into account the fact that not all 'old guards' are willing to hang their boots just yet.
Lavin Asego who is one of the most decorated players is not done with the game. Asego told The Nairobian that he is still an active player for Mwamba RFC and decisions on who plays for the national team may not be his to make but he remains hopeful and is available.
"I cannot really comment because I do not know what they are thinking. My focus at the moment is on Mwamba and Kenya Cup," Asego said.
"It is always an honour to don Kenyan colours to represent the country but then again, if such a time comes, there are decisions that have to be made.
"As you know, I am not 17 years anymore and so there are some things that have to be balanced. As at now, my focus is getting myself fit for Kenya Cup that starts on November 5, 2016."
Another veteran player who has been identified by the union for a coaching role says that he is not done playing and would love to don Kenyan colours again.
"I am still fit and quick enough to represent Kenya, I do not know why everyone wants me to join the technical bench when my body feels otherwise," said a player who did not wish to be named.
But Asego feels giving young blood the chance to kick butt at the senior level is not so bad after all.
"The fact that the guys who came from Rio de Janeiro did not play was also an opportunity for some of the youngsters to showcase what they have. I was impressed at the Safari Sevens where some showed brilliance and it is good that they have since been called to the provisional team.
"It is my hope that they will live to get an opportunity to be tested at the international scene. Even if it is not at the HSBC Rugby Sevens Series, maybe the union could organise for one of these invitational tournaments, send them for purposes of good exposure. They will not just be playing against clubs of CAF but against better players," Asego said.