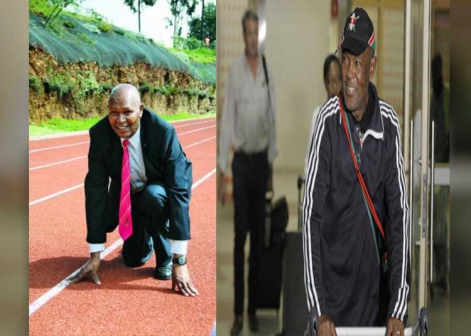 National Olympic Committee of Kenya (Nock) President Kipchoge Keino's decision to disown sprint coach John Anzrah has raised more questions than answers.
The Nairobian can confirm that Anzrah's name and photo indeed appears on the Rio 2016 Olympics handbook — on page 30 — alongside other Team Kenya officials.
Anzrah, who was sent home for allegedly 'posing' as athlete Ferguson Rotich in Rio, claimed that Keino knew too well his role as sprint coach.
"When I first arrived in Rio, I met Dr Kipchoge Keino, whom I congratulated for bagging the International Olympic Committee (IOC) Laurel Award. He thanked me and even told the athletes that I was a runner in 1984 while he was a coach," said Anzrah, a semi-finalist in 400m at the 1984 Los Angeles Olympic Games.
Keino claimed that Nock had not facilitated Anzrah's travel to Brazil. He told the BBC that, "We don't even know how he came here. We cannot tolerate such behaviour."
Anzrah was among track and field coaches at the month-long residential training in IOC High Performance Training Centre (HPTC) at Kipchoge Keino Kazi Mingi Farm in Eldoret, and he would meet Keino more often in the camp and sometimes at the Kipchoge Keino Stadium.
The development comes as a surprise to the highly-respected Dr Keino, who was feted by International Olympic Committee (IOC) President Thomas Bach with Laurel Award for his outstanding achievement in social engagements. He remains in history as the first ever athlete to receive an Olympic Laurel Award. Anzrah allegedly "presented himself" as 800m medal hopeful Ferguson Rotich and "even signed the documents" for the doping test.
"I did not give any urine sample. And if Nock claim I did, let them bring the sample. I did everything to save the athlete from missing a random test, which could led to him getting banned from competing," said Anzrah in his defense.
Anzrah's misfortunes brought to fore problems that face Team Kenya in Brazil. Anzrah who is a brother to football legend Joe Kadenge, was sent packing from Rio de Janeiro after he reportedly posed as an athlete. Athletics coaches and managers have directed the blame towards Nock, accusing the body of ineptitude.
IOC however, absolved Anzrah of any wrongdoing, saying, "It was a horrible mix-up."
IOC said there was no preliminary evidence to suggest any attempt to compromise the drug test.
"Chaperones were sent in search of athletes at the athletes' dining hall. On the list was the name of a Kenyan athlete, Ferguson Rotich. At the entrance to the dining hall, they noticed the name of the Kenyan athlete on the accreditation of a man wearing a Kenyan tracksuit.
"They informed the man he had to go to doping control, which he did and signed the doping control form. He followed to the doping control station, entered the processing room where the DCO (Doping Control Officer) wanted to seize his accreditation. He then presented his passport with the name John Anzrah, which did not correspond to the accreditation he carried," IOC said.
"The DCO contacted the doping control manager at this stage. The person explained he needed the accreditation to go to the athletes' dining hall to get breakfast and that he was the father of an athlete. We sent the chaperone to the right athlete right away; he was notified and arrived immediately at the Doping Control Station and was tested," IOC added.
Anzrah and the 'Rio Four' – former world marathon champion and assistant team manager Catherine Ndereba, Nahashion Koech, Mark Baraton and Joseph Mosonik, the coach of world javelin champion Julius Yego – lived in a friend's house in Rio after Nock failed to get them rooms.