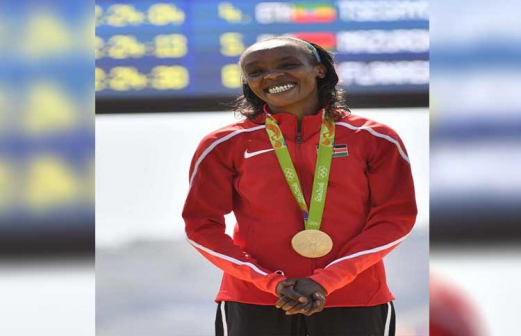 Rio Olympics women's marathon gold medalist Jemimah Jelagat Sumgong, 32, almost 'gave up' her dream to represent Kenya for the first time at the Olympic games.
According to Noah Kipsang Talam, Sumgong's husband and training partner, the controversial doping allegations against Sumgong's manager Federico Rosa heavily affected her mental preparedness for the Rio Games.
Talam revealed that Rosa's tribulations hit the marathoner hard because of aspersions that means she had to prove herself as 'a clean athlete,' despite a reversed doping accusation after the 2012 Boston Marathon, which almost ended her career. That, coupled with a bout of ill health two weeks before the race, heavily affected the gold medalist's training programme.
"This win came as a surprise to us," says Talam, adding that, "Rosa has been a good influence on me and my wife, both as athletes and individuals. I have no doubt that he is innocent." Talam and Sumgong are now clocking 11 years in marriage.
 Together, they have one daughter, Shirlyjill Chemutai, who is five years old. The two staunch Adventists' love story began within the confines of the church, where they met in 2005. Talam was attracted by Sumgong's singing in the Kaptildil and Simatwet  SDA church choirs, where they both attended regularly.
The two lovebirds' mutual love for athletics further served to bond them into a marriage. Sumgong's husband won a number of medals, including winning the Walberg Marathon and being a silver medalist in several races, including the Thesalonike, Mauritius and Las Vegas Marathons.