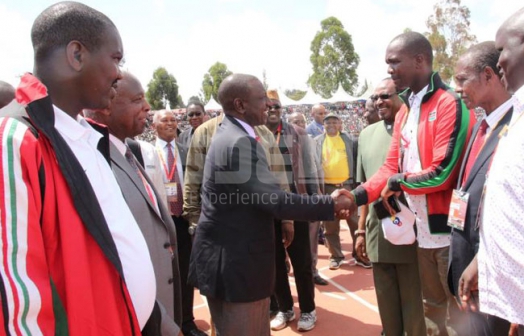 Politicians are known to steal the thunder wherever they go. But when they went for the pre-Olympic trials in Eldoret, they found their match in our stellar athletes.
The National Olympic Committee of Kenya (NOCK) took the trials to Eldoret,-home of Kenya's athletics - for the first time in over 30 years. 
The main dais had politicians like Deputy President William Ruto, governors, senators, MPs and MCAs. There were also politicians who were champion athletes including Chesumei MP Elijah Lagat, winner of the Boston Marathon in 2000; and Wesley Korir, MP for Cheranganyi who won the Boston race in 2012 and will compete in this year's Rio Olympics in Brazik. Wilson Boit Kipketer, an MCA in Elgeyo Marakwet County, and the world steeplechase record holder in 1997 was also in the house.
To whip up excitement among the hundreds of fans, these politicians took part in the 200-metre race, but something that could escape a keen observer were other athletes who brought glory to the country before the age of big money athletics.
There was at the main dais, the first Kenyan to win an Olympic medal, another who won Kenya's first Olympic 3,000m steeplechase gold and the first Kenyan woman to ever win a medal at the world championships, all sitting together. They truly evoked fond and nostalgic memories of the country's golden era.
It's hard to assemble such a star-studded glitterati of trailblazers, the fellows who inspired subsequent generations of world-beaters.
Kiprugut arap Chumo, whose 800m bronze medal in 1964 Olympics in Tokyo was Kenya's first ever Olympic medal, was sitting next to Billy Konchellah, who won gold medals in the race in 1987 and 1991 World Championships in Rome and Tokyo.
Not far from them were Paul Ereng, the winner of the race at the 1988 Olympic games in Seoul, who flew in from Texas, USA; and Stephen ole Marai, who was not as huge a name in the event, but was very consistent.
In the same terrace was Amos Biwott, who set up Kenya's 3,000m steeplechase global conquest in 1968 in Mexico, and Ben Kogo, who won silver at the same games. Kenyans have always won in the event in all subsequent Olympics.
Sitting next to Biwott was his wife Cherono Maiyo, who ran in 800m and 1,500m races in the 1972 games in Munich.
The first Kenyan woman to win a medal at the global stage, Susan Sirma, 3,000m bronze winner in Tokyo in 1991, was politely smiling next to Alice Adala and Tecla Chemabwai Sang, the duo that pioneered Kenyan women's participation at the Olympics in Mexico.
Kenya's pioneer winter Olympian, Phillip Boit, Mike Boit's younger brother, was all smiles as he shared pleasantries with Fatwell Kimaiyo, Justina Chepchirchir and Ibrahim Hussein, the first African to win New York City Marathon in 1989.
Kipchoge Keino, the chairman of NOCK is well-known as the first Kenyan to win gold medals in two successive Olympics – 1,500m in 1968 in Mexico and 3000m steeplechase in Munich four years later. He was also in the podium, but in the VVIP area where he hosted the politicians.
In the same area sat the who-is-who in Kenya's Olympic history – Noah Ngeny, who won 1,500m gold in Sydney; Julius Kariuki, who won steeplechase gold in Seoul; Mathew Birir, who won steeplechase gold in Barcelona in 1992; Moses Kiptanui, three-time world steeplechase champ; Patrick Sang and William Mutwol, who won silver and bronze during Kenya's clean sweep in Barcelona; and Ben Jipcho, who followed Kipchoge home in Munich in the steeplechase.
They were quietly huddled in the VIP area in clothes that had seen better days, complete with old golf caps.
"We ran for our country, not for ourselves like the current generation," said Charles Asati, a winner of the 4 x 400m relay in Munich Olympics in 1972, an oversized coat hanging noticeably over his shoulders.
These veterans were there after their return tickets were paid for, besides accommodation for the two days, not to mention a stipend.
When the MC announced their names, the public went wild.
"I have never seen these fellows (politicians) look so ordinary. Look, these poor old fellows in clothes that have seen better days are the stars of the moment," commented a high school teacher who attended the trials.
He couldn't have been more right. Those tired old men and women completely stole the limelight and pulled the rag from under the politicians' feet.
Some old folks were very proud parents at the trials. Barnabas Kinyor, a former 400m hurdler and 800m runner, now a Kenya Prisons Service commander in Migori, was watching his son Job Kinyor battling with David Rudisha and Ferguson Rotich.
One of Kenya's finest sprinters, Elkana Nyangau watched as his son Mike Mokamba made the team in the 200m. His other son Walter Moenga did not make the cut for the trials.
The clergy were at hand to bless the meeting, which ended without a major incident, apart from the usual selection fiasco, which is part of Kenyan official's cocktail at such events.
A bishop prayed for the event, athletes and the sport "which has brought fame and huge investments to our region." It was quite a gathering, two days of top-action, enough to satisfy those who won't be in Rio for the games.
Omulo Okoth is a former Senior Associate Sports Editor and winner of the 2016 Annual Journalism Excellence Awards, Sports Reporting. He retired from The Standard last April after three decades.