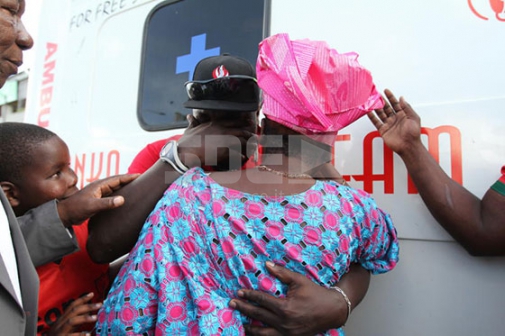 Tears of a mother, and a warm embrace reminiscent of the love mother-hen gives her little children is what welcomed coach Benjamin Ayimba after their triumphant entry at the Jomo Kemyatta International Airport (JKIA).
Esther Ayimba, mother of Rugby Sevens head Coach Ayimba, was at the JKIA to welcome her son and his contingent of muscled soldiers who had just returned from Singapore with the spoils of war. She was not alone.
"I followed the game on TV. It was fun watching the kids wrestle one another to the ground. All I did was laugh. "Benjamin is my friend, whom we agree to disagree when it comes to solving matters. He is an active and prayerful boy," said the soft-spoken Esther.
Revealing that Ayimba shares a birthday with her mum — August 27 — she said,"I knew my son would one day bring home the cup, for Kenya," she told The Nairobian.
Esther was not the only one welcoming the warriors back.
Carolyne Amonde, mother to Andrew Amonde, could not hide admiration for her son studied journalism before switching to rugby.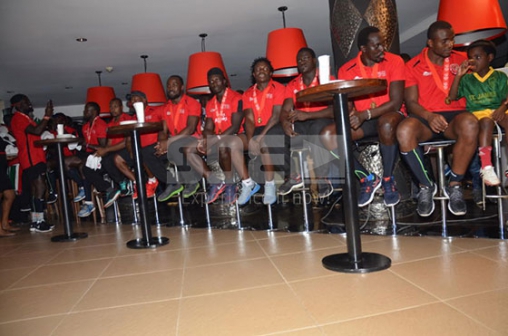 "I am impressed by the win over Fiji who have traditionally been known to whip our boys.
"Most of these players have families and have been able to contain family pressure and vagaries of the game. I urged him not to be discouraged. See, it's paying," she said.
Amonde's father, Mzee Jack Amonde added that it was a beautiful success. "It has been a gradual but steady growth. It's good to have the trophy home. Keep up the good fight," he said.
Technical Manager Anthony Ogot's wife Abbie was equally overjoyed saying the team started from scratch.
"My children and I gave him our blessings and prayers. In fact, we ate chicken and chapati before he flew to Singapore. We are now eying the Olympics," she gushed.
Anthony's daughter Marsha Ongalo, 9, was thrilled daddy and his colleagues made her happy.
"My heart was beating very fast as I watched the game on TV not knowing that we would emerge winners. It a beautiful thing," said Marsha.
Collins Injera's high school principal and Coach Mr Kahi Indimuli says he had to convince Injera's parents to allow him to play rugby.
"Seeing him devour Fiji is unforgettable. I remember I had to talk his father out of discontinuing his son from a rugby tournament," says Indimuli who was then principal at Vihiga High school where Injera was a student.