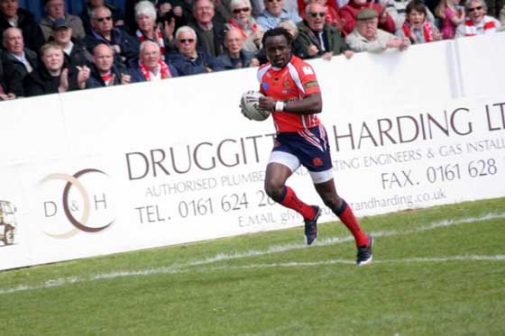 When Lucas Onyango set to the pitch, as a young boy in he had no idea that rugby, a game that he only got introduced to in his late teen years, would be the source of daily bread. 15 years down the line and Lukaka, popularly known as 'RealTime,' has risen to be the source of inspiration to young players of rugby in City of Manchester, United Kingdom.
The Nairobian caught up with Lucas at Half-end-centre in Chilton, Manchester where he doubles up as a head coach and Strength and Conditioning coach.
What do you like most about Manchester that you no longer frequent Kenya?
The beautiful thing about Manchester is that you can just live your life and no one cares about what you are doing with yourself as long as you are within the law. The only time I go to the city centre is when am flying back to Kenya.
One of the major differences here is mainly on training. We conduct lots of our evening sessions under floodlights because many a time the sun sets at around 3 or 4pm. But that is just one, every player has to make do with culture shock. The weather patterns in Europe are crazy and one has to take time to adopt.
Our main aim is to spread the sport of rugby league into the schools and the entire community as a whole.
There are some 'rough' neighbourhoods where the county council thought it wise that the kids would really gain if introduced to a sport. As a coach, my role is to not only teach them how to play rugby but also to instil certain skills like leadership, teamwork and how to control their aggression?
You have made a name as a rugby player so, why not just come back to Kenya and get a club to coach or what are you still doing in Manchester?
I am helping out because my playing career took a break after my long-term injury and I have not been back on the pitch for over a year. So, some time back one of the directors here approached me with a proposal and told me that they were looking for a coach to kick-start the programme. Today I am the head coach and I also double up as the strength and conditioning coach.
Rugby is my life and it is the sport that has made me what I am today. As such I have no problem giving back to the community. It is unfortunate that I cannot give back directly to the young lads back in Kenya but I guess that is what life is all about.
You say that your programme is all about working closely with the youth in trying to change their attitude, character while at the same time instilling new sporting skills in them. How far have you gone with that?
The kids here in Britain go through similar issues, as their age mates in other places of the world, there are no exceptions. Take a look at Aquinas High School in Jericho area, Nairobi. The challenges that those young boys go through are almost similar to the hurdles that I get to deal with daily at work.
It is all about baby steps but so far I have faced lots of challenges especially competition from Rugby Union because just across the road there is a rugby union club and at the initial stages one really has to convince the boys on why they should join the rugby league and not rugby union.
There are people who you played with or against in Kenya and today a number are struggling while some have nothing good to write home about, what makes you so different?
During the 2002 commonwealth games in London, I was a young boy just breaking into the Kenya Sevens team but there was nothing much to write home about.
I asked myself many questions about the disparity between Kenya and some if not all of our opponents who were made up of full time professional rugby players unlike my teammates and me.
I wondered how could amateurs play and win against big-bodied fellows fed on constant supply of chicken and supplements.
Back then, my sister Sharon Onyango was living in the UK so, I had a chat with her about coming just to study in England and she told that I could be whatever I wanted to be.
When we got back to Nairobi I applied for a college seeking a chance to study in London and that is how I started from the bottom. Things were not so rosy when I first set foot in England because I used to live in South East London and I had to travel daily all the way to Richmond for training with London Irish but despite all that hassle, I still could not get a game because back then their rules required that one had to play at least 20 international matches to qualify for contract talks. Kenya only plays against Uganda, how did expect me to have played over 20 times against Uganda?
So, how did you make it?
Those were some of my saddest and lowest moments of my career. I used to train in London then fly back home to play for Kenya in the IRB Sevens. Then I decided to move to Manchester Rugby Club and one day they gave me a chance and from then, I have never looked back. In my first season, I was the highest try scorer with record 38 tries. From then I have made a few moves from club to club in England.
With the experience that you have, why not come back home and help the game in Kenya?
Kenya rugby remains the love of my life; the sport has made me what I am today. From the days when we only earned Sh 250 a week, we never lost hope. It breaks my heart to see our players struggle as a country when other nations have developed their approach to the game.
However, all hope is not lost and I do believe that the world has not seen Kenya at its best. Give Benja (Coach Benjamin Ayimba) the support and resources needed, he will have the boys fire all the cylinders and trust me, the day that happens, no country in the world will ever come close to Kenya Sevens.
What lessons can Kenyan rugby players learn from your experience?
The boys must come out and define their own destiny. The only way of breaking through  will come from individual effort. My own agent has many a time wanted to sign up a few of Kenyan stars to major European sides but the red tape of getting them here remains a tall order that no one would want to indulge in.
How can you explain Collins Injera being the second best Rugby Sevens all-time top try scorer but he is still an amateur in Kenya for years? Most clubs prefer going to Fiji, New Zealand and the likes.
We must acknowledge the fact that we are already disadvantaged so, it must take more than one's exceptional talent or individual brilliance to break through. The players must be aggressive enough to find their own ways out of poverty. After all, just like me, no one took Daniel Adongo to the US he has curved a niche for himself and all of us must learn.