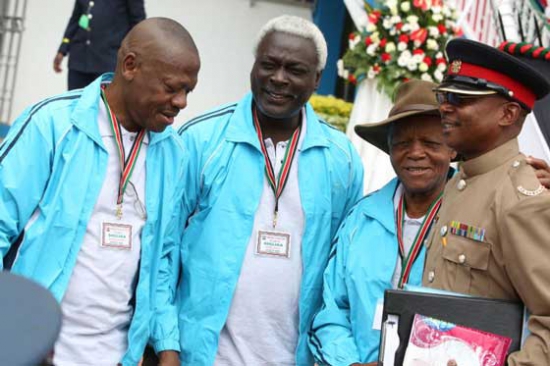 I recently came a cross photos of legendary footballers Joe Kadenge, Bobby Ogolla and Mahmoud Abbas clad in tracksuits with medals hanging around their necks.
That was just a day after the Mashujaa Day. But I would not be surprised to hear that the lads took matatus home right after the ceremony.
It will be remembered that a year after Gor Mahia won the historic Mandela Cup in 1987, Peter Dawo, a formidable player, was bestowed with the Head of State Commendation (HSC) — his name would now read: Peter Ochieng' Dawo, HSC.
One might want to find out if indeed Dawo's fortunes changed for the better after being honored 27 years down the line. But I can tell you that the pomp ended after he received the medal. Nothing changed in his life.
In the United Kingdom for instance, where notable individuals — both local and international — are put on the Queen's Honors List, the ceremony is quite elaborate.
For starters, the medal is made of pure gold, silver or bronze, and can be sold as a souvenir to any archive worth its salt. One can also choose to keep it — to be smothered by generations to come. The medal is also branded, complete with the recipient's name and wrapped in a special gift pack.
The Kenyan medals, on the other hand, look ordinary even to a non-collector of souvenirs. The several I have seen are no different from the ones my daughter brought home after a school swimming gala.
I know Joe Kadenge, Bobby Ogolla and Mahmoud Abbas are toughing it out to make ends meet.
Compared to Gor Mahia coach Frank Nuttall, we can guess how much Bobby is paid as the assistant coach. If today Nuttall's salary or even contract is breached, the UK Embassy would not hesitate to intervene. But who in Kenya would intervene for Bobby Ogolla if he doesn't get paid for six months?
Now that the trio were feted as Shujaas, what about the other players? What criteria was used to pick the three for recognition?
Take for instance former coach and goalkeeper James Siang'a, who is retired and has had to struggle with diabetes. He is now in Bungoma mobilizing and training the youth.
Harambee Stars former players; Josephat Murila, Ambrose Ayoyi, Sammy Tabu, Washingtone Muhanji, Douglas Mutua and Wilberforce Mulamba, were in the same team as Bobby Ogolla and Abbas. Who will talk on their behalf?
JJ Masiga combined sports with his profession — medicine. At one point, he took a flight from Malawi back to Kenya to seat his exams at the University of Nairobi — he then rushed back to help his team in a Cecafa tournament.
How else could someone describe the word 'commitment'? What could be more patriotic?
We recall how Siang'a had to appeal for intervention from friends to pay his hospital bills after a surgical procedure.
Joe Kadenge too had it rough just the other day when he was admitted at a Nairobi hospital — he had just been threatened with eviction from the only house he has called home in Nairobi.
I believe it was from the same house in South B where he woke up to go and pick his medal from Nyayo Stadium. Was the inclusion of the three an afterthought? I think it was simply because they stay in Nairobi and were easier to mop up.
It is worth noting that many sportsmen and women are rotting away in rural areas and no one even remembers that they were once mashujaa.
In soccer, the highest goal scoring record — in one year — was set by Maurice 'Sonyi' Ochieng. Ochieng's record has stood for 39 years, and has never been broken.
Today, he is languishing somewhere in Seme, Kisumu County. Nobody, including his close village mates even know that mashujaa were feted the other day.
Then there is the story of former footballer Martin Ochieng aka Swaleh Ochieng who was retrenched from the defunct KPTC (Kenya Posts and Telecommunications Corporation) where he worked as a technician. Fine, he managed to convert his pension to fund the purchase of a house in Maringo. Ochieng went on to work as a driver, but the job didn't last for long. Today he is jobless. He is always in faded track tops, jerseys or worn-out sports shoes. It is difficult to tell he was once a soccer celebrity.
Who will smoke out retired footballers vegetating in rural areas? I believe that with good networking, the government can have sponsors donate medical cover or houses, which is far much better than dishing out medals.