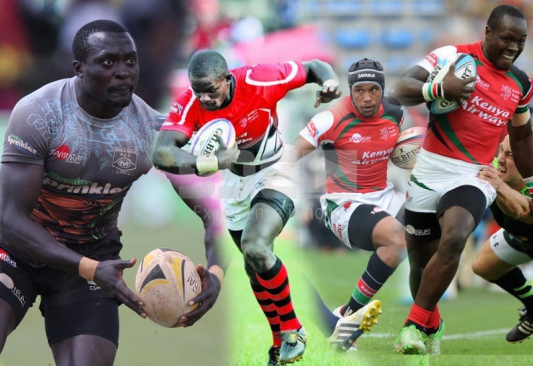 Kenya's rugby sevens vice captain Collins Injera may have costed TV crew heavily by signing a £60,000 (Sh9 million) camera lens with a permanent marker to celebrate his 200th World Rugby Series try in England on May 17.
But that a side, did you know that Vihiga County boasts of probably nurturing the highest number of players in Kenya's seven-a-side squad? A majority of players in the Kenyan team that featured in the London tournament are from Vihiga County.
Captain Andrew Amonde, Injera, Humphrey Kayange, Oscar Ayodi, Biko Adema and Felix Ayanje are all 'rural' neighbours.
The London tour is not the only meet that has been dominated by 'Vihigans' as the county's home boys have previously shone in other IRB competitions.
In 2013, when the team played in Moscow for instance, four of the players in the starting line up - Adema, Khayange, Willy Ambaka and Injera - were from Vihiga.
In the 2014 Commonwealth Games, Amonde, Injera, Patrice Agunda, Felix Ayange, Kayange, and Michael Agevi, all from Vihiga, flew the Kenyan flag high in the sport.
According to Chavakali High School Principal, Indimuli Kahi who coached Injera, teachers who loved the sport at school and outsourced external coaches have helped build careers of very many promising players from the region.
"We have many rugby players who hail from these county. They have been the ambassadors who have popularised rugby amongst the locals," he says.
Before the current crop of players came into limelight, the county boasted of veterans like Godfrey Chief Edebe, who is credited with playing a vital role in the founding of clubs like Mwamba and Mean Machine. Edebe also turned up for the national team.
Andrew Ahuga, who is the Member of County Assembly for North Maragoli, was a lethal rugby player in his heydays and is proud of the rich sporting talent from the county.
"If you look around, you are bound to find one or two rugby players in Vihiga who created waves in the past. We need an academy to nurture the talent because rugby is clearly a sport we are good at," says Ahuga.
Ahuga was Mean Machine's and later Impala's captain. He actively represented the national team, before he was made coach of the development team.
In the county, Ahuga sponsored a rugby tournament at Chavakali earlier in the year. His says that his objective is to help in identifying untapped talent from the region.
Ahuga was in the team of nine players that represented Kenya in its debut in the IRB Sevens World Series in Hong Kong in 1986. The squad comprised Jackson Omaido, Alunga Omollo, Jimmy Owino, Pritt Nyandatt, Evans Vitisia, Peter Belsoi, Max Muniafu, Dan Kimoro and Ahuga Mwenesi.
Other players from Vihiga who excelled in rugby long before Injera include Ken Sagala, Paul Murunga (who scored several crucial tries to help Kenya qualify for the 2001 World Cu)p, Martin Ndeda and Absalom 'Bimbo' Mutere.
Some of these players perfected their skills in the 1970s up to the 1990s,  with a reign of 'terror' in the competition for the Prescott Cup that was mainly dominated by colonial-era schools like Lenana, Nairobi School, St. Mary's, Strathmore, Rift Valley Academy and Hillcrest.
Benjamin Ayimba, as a player and coach of national rugby side, has had a stellar career in rugby. Ayimba is among the few rugby players from Kenya who have plied their trade overseas.
Ayimba, Injera and Kayange were awarded the Order of Golden Warriors (OGW) in 2010 by President Mwai Kibaki for their exemplary performance in the 2008/2009 IRB World Series.
In a past interview, Injera said he joined rugby accident.
"I joined Form One in Vihiga High School in 2001 and as is the norm, each newcomer had to choose a sport of interest. Nearly everybody chose football. However, there was an alternative sport called rugby. Nobody seemed interested in it. Only senior boys played it. I decided to give it a try," he said.
Injera's older brother, Humphrey Kayange, has been the captain of the Kenyan sevens squad. Their younger brother, Michael Agevi, also plays for the sevens team.
Another notable player from the county, Willy Ambaka, 25, is another rugby star. He is currently playing for South Africa's Currie Cup side, Western Province. He started his career with Kenya Harlequins and has played for the national team severally.
Patrice Agunda (Harlequin), Biko Adema Nondescript RFC and Felix Ayange (Harlequins), are all products of Vihiga who have played for the national side.
Schools like Kakamega, Maseno, Musingu, St Mary's Yala, Vihiga, Nyang'ori, Chavakali, Kamusinga and St Peter's have all helped shape careers of many players from the region.
Indimuli says that with most schools having adopted the game, the county is poised to further excel in rugby and produce even more skilled players.
"Initially, only Nyang'ori, Vihiga, and Chavakali participated in rugby games. But we are now seeing the sport becoming very popular in all schools. There is a county team, which is in its early stages, having been formed just recently. This means Vihiga is not yet done with churning rugby players," he adds.
He notes that it is time players like Injera gave back to their communities back home by supporting upcoming talent.
Other promising players who left school recently and are already in various rugby teams countrywide include Oscar Ayodi, Leonard Mukaizi (Homeboyz), Darwin Mukiza (KCB captain), Edgar Abere, Brian Kivisia, Enock Makinga and Shaban Hameed (Mwamba), among others.