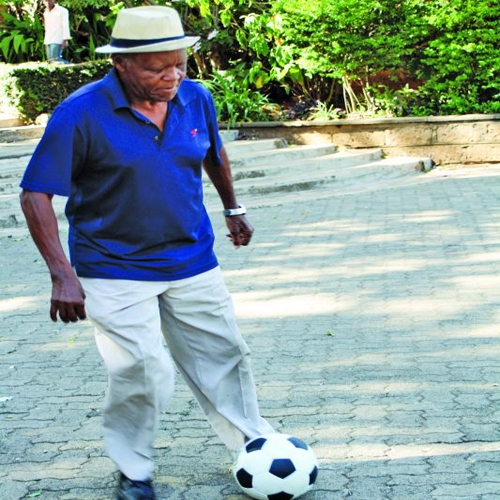 One day, my friend Abirry Wuoche Gweno disappeared from all his friends' radar. For many days, they did not know where he was, although they knew he was alive.
When he re-appeared and was asked where he had been, he responded that, "My guys, visibility can be very expensive at times." He believed that the more visible you are, the more expensive it is to maintain that presence. He opted to be out of circulation for awhile to avoid 'taxation' by the many friends who hang around people like him.
As a post-graduate student of public relations (PR), our teacher once told us that PR can sometimes be used to sugarcoat issues of serious magnitude to sound 'palatable.' As we wished Joe Kadenge a happy 80th birthday, things looked brighter for him and his fans. What we forgot was that there are many 'Kadenges' out there who have been completely forgotten and ignored.
Many have died and got consigned to unmarked graves.
Just the other day, the media reported about the ailing Benson Wanjau aka Ojwang' Hatari. What many Kenyans did not know is that these two 'celebs' - Ojwang' and Kadenge - enjoyed the limelight, not because Kenyans cared, but simply because they are in an urban setting and within reach of cameras, Facebook, Twitter and gossip columns.
The more their presence was visible, the more they touched our hearts.
I was amazed by Kadenge's birthday wishes, because I spotted him recently driving along Uhuru Highway, yes, at the ripe old age of 80. I join in wishing him well. Clocking 20 years short of a century is not easy and I can bet it will be an uphill task for most of the current generation's stars to achieve the same feat, what with the numerous temptations and fast-paced lifestyles they lead. Even hitting 50 is not easy nowadays.
The lifespan of a modern Kenyan footballer gets shorter by the day considering what shapes their welfare.
Many of the players who led our clubs and country to glory in the 1970s and 1980s have long gone to join our maker.
In evaluating Kadenge's secret of success, I can boldly say that God has blessed him. He can still drive in the streets of Nairobi, an achievement many drivers half his age find difficult. Joe looks smart in his fedora. One can categorise him as someone who cares about his general outlook.
Each time I see Joe Kadenge, I also recall another former player who has 'taken care of himself.' Albert Okech played for Luo Union as a defender and was also a Harambee Stars trialist. Currently, he is a member of one of the members of the Cecafa Technical and Training Committee. When I met him in Kigali at the Nyamirambo Stadium during one of the tournaments, Okech stood out as a serious soccer professional who was there for soccer's interest. I also spotted him last weekend during the Gor Mahia vs AC Leopards encounter. He was with Noordin Taib, also a former football administrator. Okech was dressed in a stylish crisp linen shirt. When he told us he was celebrating  his 65th birthday, we marvelled at his ability to maintain his body and soul with a positive attitude towards life.
The first thing that hits one on meeting a Kenyan footballer, of the bygone era, is the 'taxation' they always subject the people they encounter. Some former soccer greats sometimes assume the public owes them 'tax arrears.' When you bump into them along the streets, and after exchanging pleasantries, their next sentence is usually the trademark, "Sasa si uniachie kakitu bwana."
Most former players, especially those who enjoy the tipple, look so tired and rugged. Although some would wish to, they are unable to reach the stadiums to watch their favourite game. With reduced income or no income at all, they resort to cheap alcohol, which has made them a most pathetic sight to behold.
On the other hand, we can list some members of Kadenge's era who are still around but out of the limelight. These are the unsung heroes who 'fed' Kadenge with balls for his characteristic moves and goals. They are the wingers who complemented his efforts and the defenders who ensured his great goals were not neutralised by opposing strikers; and the goalkeepers who supported his wins by keeping opponents at bay to maintain the wins.
The big question which we may ask ourselves is; Is Kadenge a beneficiary of the media? How would he have had he retired somewhere in the rural areas? Would we even remember his birthday? Is he lucky not to have 'gone shags' where Kenyans would have forgotten him the way they forgot other former greats who are over 65 now?
Should Kenyans also send birthday wishes to Steve 'MacQueen' Yongo, Ben Obala, Agonda Lukiyo, Abdul Baraza, John 'Hatari' Owiti, Okello Smart, Peter 'Sharpshooter' Odera, Aggrey Lukoye, Noah 'Landi Mawe' Wanyama, James Siang'a, Joram Roy and many more?
Away from soccer and on the flip side, what if Ojwang Hatari was long-retired somewhere in Mukurweini, would sympathisers have come to his rescue the way they did last week?
Just as an afterthought, maybe our footballers and other legends should retire in urban areas to enjoy the 'Kadenge effect' and prove to my friend that visibility can sometimes pay.