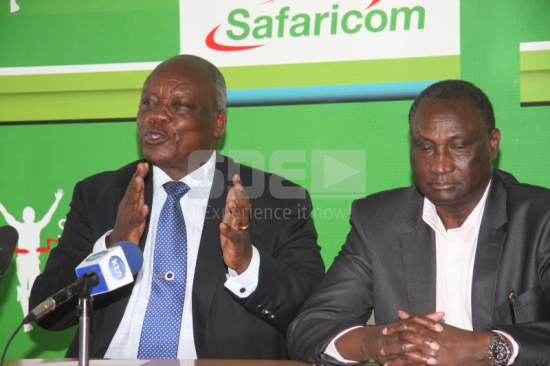 Athletics Kenya (AK) President Isaiah Kiplagat has admitted he has been aware of cases of doping in Kenya under his watch.
The embattled, long-serving AK president was at pains to exonerate his office from the never-ending doping allegations that have dogged Kenyan athletes.
In a four-part exposé dubbed Poisoned Spikes by Citizen Television, Kiplagat said that AK is fully aware of almost all the doping syndicates that are threatening the nation's rich history of success in athletics. According to Kiplagat, his office is fully aware of chemists in Iten, Eldoret, Kapsabet, Kericho and Nairobi, who prescribe drugs for the athletes.
"The chemists tell our athletes that if the drugs are injected three or four weeks before a race, they will not be detected. We have been told all that. We have even been given names of some doctors. But as a federation, we have no capacity to rein in this vice," Kiplagat told Citizen TV.
Endanger lives
Kiplagat was reacting to the tales of how quacks and licensed medical practitioners in Rift Valley are involved in malpractices that not only serve to erode the nation's credibility, but also endanger the lives of both young and elite athletes.
The exposé caught pharmacists on camera scheming to have athletes injected with EPO (erythropoietin) for as little as Sh10,000.
"We must drip plain water first for around 40 minutes before we inject the drug when it is almost halfway, like 200mls. The rest is (administered in) food supplement," the doctor explained to one of the athletes who posed as a patient for the exposé.
The medic made attempts to assuage the athlete's fears, saying procedure had no side effects. "This is what we do almost every day," the doctor assured.
Another pharmacist said he could administer EPO for Sh30,000 and boasted of his vast experience in administering the drug successfully.
Mistakes happen
"How many have died, and how many have we killed? If an athlete doesn't want to be assisted, he can stay. We do not want complications, and if any mistake happens, it is between you and the doctor," he said.
The exposé unearths how Rita Jeptoo's estranged husband, Noah Busienei, allegedly tried to stop his wife from doping in vain. Busienei was recorded making damning allegations that his wife, Jeptoo, who won her first Boston Marathon in 2006, started doping immediately after giving birth to their first child in 2011.
Special water
A broken Busienei narrated that he became suspicious when his wife changed her management and signed on with Italian agent Federico Rosa.
"Wakatupatia vitu ambazo sielewi ilikua ni nini, lakini walisema zitatusaidia katika training. Then he said that he has some water. Ukitaka kuenda long run (marathon) I have some special water which is good for your body," narrated Busienei.
While adding that he was not surprised when both samples A and B from Jeptoo came back positive, Busienei blamed it all on some 'special water' that one of the wazungus offered to her.
"He told us that for the purposes of long races, he had some special water that would help her," Busienei claimed.
Three to blame
"I have to blame three people; Claudio Bradelli, Federico and Athletics Kenya. I raised the alarm and talked to AK's top officials, but they refused to take any action," he lamented.
During the hearing of Jeptoo's case at AK headquarters, both Claudio and Frederico were present. The two distanced themselves from the scandal.
"I have nothing to do with this case, and I do not want anything to do with her (Jeptoo), same as Kipsorio. We are completely out of this, and we do not want anything to do with them, that is the point," Federico told reporters.
I am very busy
When pushed to disclose the names of people who could likely be responsible for administering the drug to Jeptoo, Federico said, "We will disclose, but that will not come from me. Somebody else will do that."
Federico's response implied that he could be aware of the people involved, and it was just a matter of time before the truth comes out.
Claudio on the other hand said, "I am not guilty. I am just going back to my job. I am quite a busy person."
Isaac Mwangi, when reacting to an uproar to have the matter fully investigated said that, "I got a call from the media asking me why we haven't sanctioned Jeptoo's management, but I told them there is no evidence linking him to any wrongdoing," said Mwangi.
- Additional reporting from Citizen TV