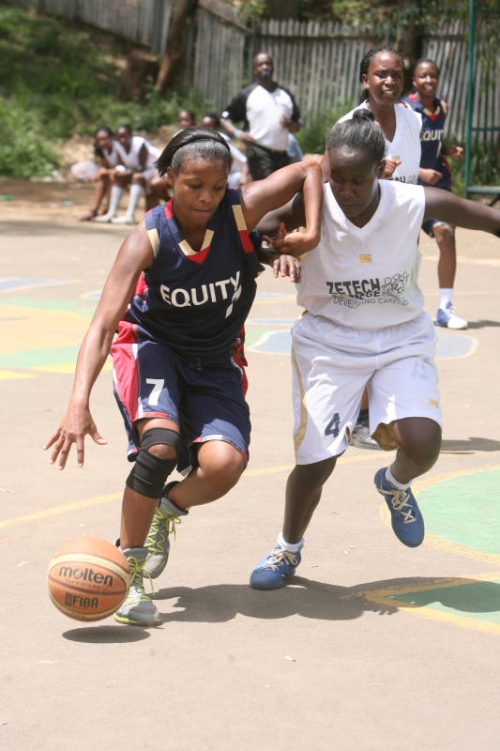 When United States International University (USIU-A) basketball team beat a senior Kenya Ports Authority (KPA) side to clinch the basketball premier league title, all attention shifted to the young college girls who had just floored the famed giants.
The USIU-A students exhibited fantastic display of ball dribbling with exemplary runs that saw them rout the defending champions in the play-off finals at Nyayo National Stadium Gymnasium on January 30.
Unknown to many was that one of the stars in the KPA side was not having 'a good day.' In her own words, it was 'that time of the month.' She went on to narrate how the night before was very long and doubted if she would be strong enough to make the team.
"This was our big day and the team needed me and all other plays to be focused and on top of our game. It is unfortunate we lost, but it's not the end of the road. We will fight another day," said the player who requested not to be named.
The Nairobian has since learnt that the KPA star's case is not unique and many women's performance is affected by the menstrual cycle.
Samba Mjomba who plays for Equity Bank's women basketball team says her experience varies, depending on the weather and her state of mind.
Samba says she tries to manage her situation by running a lot, especially during 'those days.'
"The effect on performance is relative, depending on the nature of the flow. You know these women things vary, but again, we are all different. There are days when my menstrual cramps are unbearable, so I find solace in running to help ease the pain, but there are also the good days when this period gives me extra energy," Samba notes.
The point guard who also plays for the national team, says the effect of her menses on performance largely depends on her mood.
"There are days when I am okay, but then there are also those months that you can't go do certain moves," she says.
Whereas Samba openly spoke about the subject, many other sportswomen would not broach the subject. Many like Pamela Sinda, popularly known as Pam, and who plays for the Eagle Wings basketball team, would rather leave everything to the imagination of fans.
Keen observers, says Pam, can always tell when a player is in 'that time of the month.'
Pam says she has seen her colleagues  suffer bouts of low energy and drowsiness during their menses.
"Drowsiness and weakness are normally caused by certain eating habits, which are mostly prompted by an athlete's desire to replace lost blood," explains Pam.
"Since the league is made up of teams with serious financial challenges, coupled with delayed or absence of salaries and match allowances, the thought of even hiring a nutritionist is a dream," she notes.
Pam who has played basketball for the last 12 years says the situation cuts across all sporting disciplines in Kenya, with many women forced to struggle during such times.
Many players, she says, leave their homes early in the morning without taking breakfast. Most of these players cannot afford a good breakfast and would therefore train on an empty stomach. There energy reserve is gradually depleted making it hard to even move during a game.
"When dealing with women, almost everything boils down to emotions. As such, the coach, fans or team members may not understand the reason for dismal performance, especially if they can't relate to the experience.
"A male coach can even take a swipe at you for not achieving set targets because they do not understand what we go through," adds Pam.
Athletics champion Mercy Cherono says: "Different athletes deal with periods differently because our bodies are also different. Some people feel stronger others feel weak when competing while having periods.''
Asked if she has any memorable moment she says:'' It's hard for me to pick any memorable moment because its almost weird that I am mostly on my periods during competitions, like the whole of last year, they would come on or just before competition day. Change of climate sort of messes up with the cycle, but I personally don't think periods affect my performance.''
Volleyball queen Janet Wanja however says, "I do not have problems with my periods. For the last ten years that I have been very active in volleyball. I only remember once in 2005 during the African Cup of Nations in Nigeria when I went through lots of pain that I could not play a game.
I opened up to the team doctor who sought assistance from the medics from the Tunisian team. They gave me some pain killers. From then, I have learnt to cope with my body system without any issues."
Sprints coach Stephen Mwaniki hailed the sportswomen for coming out to speak on the subject. Mwaniki, who described the problem as one that is beyond human control said: "I have encountered cases of slump in performance from many athletes locally and international especially at the training camps. Most of the time, the coaches would talk with the athletes, and with the help of doctors, find a way of addressing the issue."
Mwaniki adds that, "Some athletes choose to keep to themselves, only revealing their condition when it is already too late; probably on the day of the race or after losing." Mwaniki has coached the Kenya national athletics team to major international victories in the past.