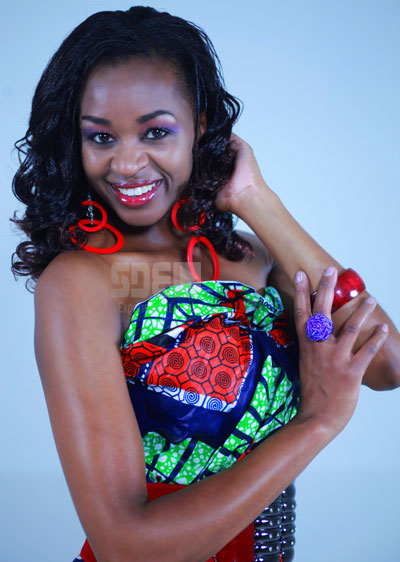 Esther Wahome
By Esther Muchene
Few knew her until she started getting massive airplay on TV and radio for her hit track Kuna Dawa. So massive was the song, it was — and still is — a regular request staple that even club DJ's could ignore. With this she became a household name and sensation in both the gospel and secular quarters. But this tall and beautiful songstress hit the music scene 20 years ago, making a name for herself while barely out of her teens.
Today, as she walks into our offices, the mother of three effortlessly demands attention from her elegant walk and bubbly physique. Growing up in a musical family, her father William Wahome loved to play music as a hobby and was skilled in playing several instruments, becoming an inspiration to the then young Esther.
"I love what I do and I can only thank God for the favour He has shown me.''
Growing up in Nyeri, she would spend her time singing in church and as fate would have it, in 1988 she was spotted by a KBC producer Sammy Oyando, who was impressed when he saw her performing and gave her the opportunity to present in the pioneer Sunday gospel show for the national broadcaster, Sing and Shine.
This once-in-a-lifetime opportunity gave her the encouragement she needed and marked the point where she knew that music was what she wanted to do in life and after completing her high school at Pangani Girls School, in 1993, she moved to Nairobi to pursue her dream.
Despite the numerous challenges the young rural upcoming singer faced, she was blinded by her passion and would perform at crusades and other church related events that paid her meagre fees — though she, somehow, survived, she was left cash-strapped, and this sparked the need to look at her music also from a financial angle.
After releasing her hit song Furahia in 2000, it was well received and caused stirs locally and internationally and one year later, she became the first Kenyan to be featured in an international compilation CD of the biggest songs in Africa titled 'Stars of Afro-pop', a platform she shared with the likes of Papa Wemba and Yossou N'dour.
Crowned in August last year at St Petersburg, Russia, she is the reigning Mrs Universe Kenya.
''I was nominated by the Miss Universe Limited to represent Kenya for the very first time, and I took up the opportunity. As God would have it, I was crowned Mrs Africa and came second globally after the winner, who was from Columbia, out of the 66 countries that were represented,'' she recalls.
She has been married for 17 years; something she says brings her joy and pride, which clearly show, through her expressions when she gets talking about her family.
"I have a passion for marriages and contrary to what many people think, marriages do work," she notes.
Inspired by the love of family, she secured the Miss Universe Kenya franchise that advocates for marriages and family values to give exceptional and married women a chance to be heard.
Contrary to most pageants, their parade does not include bikini modelling, therefore, any eligible woman can enter so long as one has been married for at least five years, with adopted or biological children, aged between the ages of 25 and 45 years.
Esther is also an ambassador for blood safety with Hope Worldwide Kenya and Lifebuoy school of five, which helps children adopt a hand washing lifestyle and
Related Topics