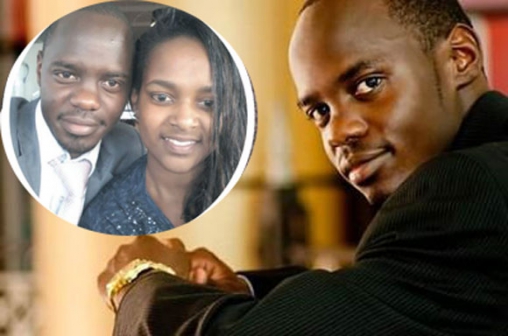 For the first time since the media was awash with speculative news that young business magnate and politician in the making Meshack Kimutai was having an affair with the Deputy President's daughter June Ruto, the 25-year-old speaks out adding a twist to yet another story; his 'love affair' gone sour with celebrated actress Maureen Koech, Pulse's ROSE KWAMBOKA writes
It is Tuesday 1.30pm. Meshack Kimutai calls the Pulse desk.
This is the umpteenth time he is getting in communication with us since his friend of many days, actress Maureen Koech spilled the beans; that they were neither dating nor were they engaged as it had been alleged on social media – a report that supposedly came from the politician in the making. "I am passing by your office at 3pm on my way to the airport to set the record straight," he says sounding exasperated.
And at 3.44pm, he drives into our office ready to download fact files, not only on his said love affair with the acting beauty but also the grapevine about him and the Deputy President's humble daughter June Ruto that left everyone in disbelief.
"No! I have never ever dated June Ruto. Never! That was a white lie that was created by my political enemies who wanted to me to clash with the Deputy President (sic). It is pure propaganda," he refutes. He even digs into his Instagram page where a post reads: "We know those who have been paid by our enemies to run malicious stories. But, that's nothing. So, we ignore. They will not succeed."
But that was last year and with that behind him another controversy broke about him when the celebrated acting beauty disowned him, hitting showbiz news like a thunderbolt.
What is the untold story between Maureen and Kimutai? Through an exclusive story carried in Pulse last week, she distanced herself from him saying the two had never dated even after reports broke that they were planning to tie the knot.
"We first became friends in 2014, then I was in another relationship. Back then, I suggested to Maureen that she starts a company to help her generate her own income. She did and enlisted her close friend Milka Ndegwa, a fellow actress," Kimutai reveals. "I registered for her a company which she named Seventh Quea Media Ltd. We planned on a blueprint for her company. I linked her with a mentor - Tinah Korosso - who was managing (singer) Habida and the plan was for her to do a collabo with Habida under my support and sponsorship," he further states.
Without mincing his words, Kimutai says he got interested in Maureen after he broke up with his former lover. He poured out his heart to her.
"Come last year, after my other relationship went sour, Maureen and I dated, though briefly," he says of the relationship that wound up in early November, just after his birthday. "One day, my driver chauffeured me to her home in Zimmerman where I always picked her."
"This day, I needed to have a serious talk with her. We left for a famous five-star hotel (Pulse confirmed that to be Villa Rosa Kempinski) and poured my heart out over dinner. I expressly expressed that I wanted to take this relationship to another level - something that would lead to a lifetime commitment. In case that was not enough, I told her that I wanted to settle down and had no intention of being taken for a ride - being in a relationship just for the sake (of it)," he reveals.
However, in his own words, Maureen did not seem to be reading from the same page as she rejected his advances.
"She told me it was too early for her to settle down now since her priority was to set a base for her career and business, and she was right. I told her I had nothing against her and that I wished her all the best in life."
To drive the point home, Kimutai says he insisted she should never contact him, ever.
"I remember I told her to contact me only in an emergency, like if by some bad lack she would find herself hospitalised." After this final toast, Maureen was dropped back home. That marked the end of the relationship.
As last year came to a close, Kimutai got into another relationship. He says Maureen learnt about it and was not happy.
"She tried making a comeback, always calling me to help her out in business, since I was her business mentor, but it was a tad too late for her. I am now in a very serious relationship and happy," he says, adding that he washed his hands off the business. "Her sentiments on last week's Pulse are just lies. She is just hurt because I have moved on," he says.
But who fed blogs with gossip that Kimutai and Maureen were headed for marriage?
How comes this was all over the Internet and he did not refute it until Maureen came out furious? Is it true that the bouquet he was pictured handing over to her was the genesis of the problem as Maureen put it; that she was not looking forward for much from him besides business?
"Maureen and I are done and this story is brewing trouble with my current (girlfriend)," he says. "That is just it!"
Related Topics