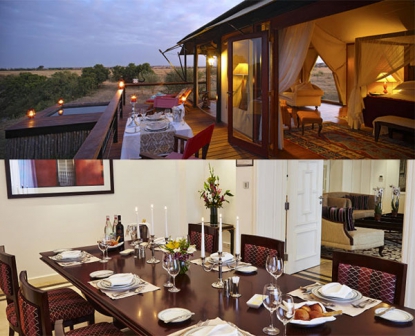 You are hearing this for the first time! A lover will burn Sh5 million on the most daring Valentines offer by a local establishment. A three-day treat revealed by Vila Rosa Kempinski when Pulse dared know if last year's Sh2.4 million offer was up for grabs, one more time.
"Sh2.4 million? No. That was too little. This is 2016," our source, a senior management personnel told Pulse. This is the ultimate treat. You have Sh5 million to burn on you and your lover this Valentines? Are you that man or woman? Here is the deal:
Pulse has exclusively learned that the luxury 5 star uptown Nairobi hotel has set aside Sh5 million worth of a treat for any willing lover who successfully bids for the offer.
The lucky lovers will be picked by five stretch limousines from their home or anywhere they wish on Friday (next week) and their convoy will include outriders and armed guards who will be accompanied by a butler and 'the lady in red'.
The lovers will then be chauffeured to the 5 star hotel where they will receive red carpet reception and ushered to the presidential suite. There, they will be welcomed with 50 bouquets of red roses. There will also be 50 bottles of champagne for their indulgence during their three-day stay.
Now, we don't need to talk about the whole private chef, Jacuzzi moments, massage treatments, dinner serenade by a violinist and rooftop treat at the presidential suite – all in utter privacy - or do we? Well, the lady will be given a special jewellery pack, again, valued at Sh1.4 million. That is just for day one.
"The hotel's award winning chef, Ciaran Gantly has come up with a new menu for this couple and this menu shall never be replicated again in the hotel. The six-course aphrodisiac menu has taken the chef six weeks to craft and source for ingredients, some of which have been imported from Italy and the Middle East region.
"The hotel has handpicked exclusive custom-made set of diamond jewellery for the lady and white diamond cuff links for the gentleman sourced from a top-range designer in Italy, which will be personalised and custom-made gifts for the couple valued at Kshs.1.4 million," confirmed the Villa Rosa marketing manager Mwingirwa Kithure.
On Saturday, that is on Valentine's Day eve, the four limousines will pick the lovebirds to the Wilson Airport where a chopper will be on standby to fly them to the adorable Olare Mara Kempinski, Maasai Mara for a lunch treat and evening lunch drive.
After their romantic sundowner treat, they will then be flown back to Nairobi and back to their presidential suite to continue with the enviable treat. "The limousines, the butler, the security and everything offered to them will be specifically for them.
All this is part of the Sh5 million deal," our source said. "We are calling this the 50 Shades of Valentines and we want to make it the most memorable treat anyone has ever enjoyed in this land," the source added noting that the media will only be allowed film the event if the winner client allows them to do so.
It will be a four day treat that is expected to conclude on Monday. Who will be the first one to take up the dare?