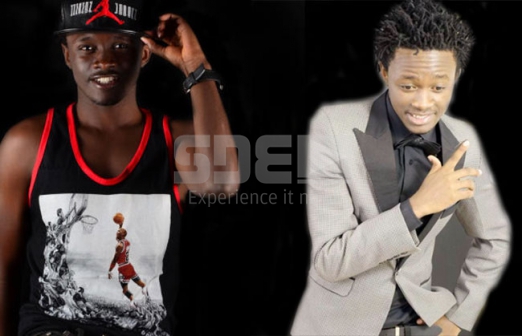 After we exposed a scheme by some artistes to 'finish him' early this week, in this exclusive, multiple-award winning gospel artiste Bahati says he has quit gospel music for now and will be off public and social media until God directs him on his next move
His phone has been off all week. His Facebook, Twitter and Instagram pages have been wiped and suspended. No one has a clue where he is.
Only a week ago, his gospel arch rival Willy Paul stirred up fresh beef that the blogs splashed.
It has been a long circus anyway and who cares all that 'Bahati did...Willy Paul did...' anymore. But this is serious. Bahati has gone missing. A strange voice calls the Pulse desk. The lady on the other side sounds disturbed.
"I have bad news to break. There are some gospel artistes who want to finish Bahati. I have evidence. I want to share this with Pulse so that in case something strange happens, the world will know at least someone blew the whistle," she says, breaks into what sounds like a sob followed by a prolonged pause.
Stirred, the receiver jumps in.
"No one is dead, right?" the question comes.
"Do you know where Bahati is? He has not been seen for days and his fans are worried," she goes on.
"It is not funny anymore. These guys are really after him. They have been calling people, including me, with the agenda to spoil his name. They said I should go and record a video saying that I have his baby. They are looking for his relatives and old friends to film them and have them tarnish his name including lies that he has been sleeping around with girls and talking alcohol. I can come over to the office and share what I have," the girl, whose name we choose to keep anonymous, went on after asking for protection.
And to the office she arrives. Her phone has recordings; telephone chats and audio conversations with two artistes, or so she claims, with conversations of a far damaging plot... against Bahati.She says these two are just a few in a team of artistes, music producers, media personalities and bloggers who have schemed to 'finish' Bahati.
The long WhatsApp conversation allegedly made between our source and one of the artistes has a claim of corruption- that Bahati paid organisers on his way to winning the Groove Awards 2014 and 2015 Best Male Artiste awards.
The claim goes alludes to 'someone' being paid Sh1 million to have Bahati win both awards. And there is more...
Bahati's phone is still off. He has been missing in action for a week! That is until he called Pulse mid this week with a shocking revelation.
"I have decided to quit gospel music for now. I have decided to follow my heart. Gospel artistes, my very brothers, have been meeting secretly and plotting my downfall. I have so much pain in my heart. It is not worth being in the gospel industry now," Bahati stuns us.
"What do you mean...? Quit?" we ask.
"At this rate, this hate will even get me killed. If they can even go to an extend of looking for my relatives and other people close to me to bribe them and have them cook lies about me, then aren't they ready to do anything to finish me?" he quips.
Besides his public differences with Willy Paul, Bahati has had a cold war with Daddy Owen and Rufftone among other artistes since he alluded that Daddy Owen never paid Denno part of his cash when their Mbona collaboration won the Kisima Awards in November 2012.
"If the fathers of the gospel can stand out and fight me, the small Bahati I am, then, it really gets funny," he remarks.
"The gospel industry is no longer about glorifying God. It is no longer about a call. Am taking a break to think of what next," he concludes, leaving us with more questions than answers.