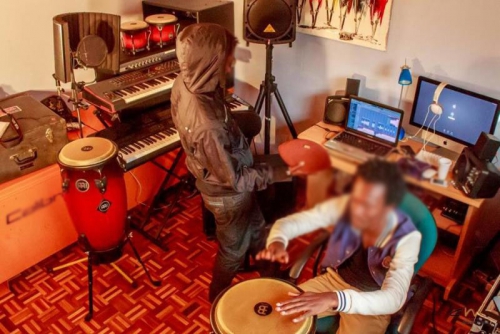 On Friday night, while DJ Abstrakt was thrilling fans at the popular Persia Club at TRM along Thika road, National Environment Management Authority (Nema) officials walked into the venue in the company of police and ordered that the music be put off.
It was a moment of panic as the huge crowd of revellers, mostly university students, watched the officers summon the DJ, before whisking him away.
Rumours broke out that he was spinning under the influence of 'something' but Pulse would later establish that his arrest had to do with the Nema licence at the club.
After his arrest, he was locked up at Kamukunji and not even efforts by his friends, who camped outside the station pleading for his release, could get him bailed out.
He spent the entire weekend behind bars and was later released on Monday after paying cash bail of Sh30,000.
"My arrest was to do with some environmental law, something about noise pollution," DJ Abstrakt clarified when Pulse interviewed him by phone on Wednesday. DJ Abstrakt does not smoke the illegal drug under whose influence many entertainers are perceived to perform.
Many entertainers are finding themselves between a rock and a hard place as Nema officials and police officers launch a major crackdown in clubs and other entertainment places hunting for drug abusers.
This comes as the youth are said to be smoking bhang freely especially in open air concerts such as reggae festivals and other popular shindigs.
Many college-going Pulsers see nothing wrong with smoking the substance as many refer to it as 'medicine' and a 'good source of inspiration'.
A few days ago, members of the popular EDM Lectronica Circle are said to have been kicked out of a recording studio for alleged drug abuse.
"Yes it's true we were kicked out. It's not a rumour. It was grass and nothing major," one of the members, David, revealed when Pulse reached out for comment on Wednesday.
At the same time, popular Mombasa MC Abanus Nzuki aka MC Kioko is still in Shimo La Tewa prison after he was arrested on June 27, allegedly in possession of fake county permits.
Among the fake documents he was alleged to have been found with are documents from the Kenya Revenue Authority and KCSE certificates.
"Petty crimes are common among the youth and the government should be able to address this through the relevant channels. The youth are not entirely to blame," Jaguar told Pulse.
"The government should investigate why more youth are indulging in drug abuse as well as other crimes. The joblessness levels in this country are alarming yet schooled youth have to get a source of livelihood," he added.
"Drug abuse should not be encouraged whether one is smoking bhang or simply doing an overdose of something else. The law is plain on this. The youth should resist peer pressure. This talk of weed being 'cool' is just a big deception," says Alliwah, a popular singer and actor.
A number of local artistes have been in rehab on drug-related issues while others have died for the same. Not long ago, Nigerian singer Wizkid was arrested in a Nairobi hotel after he was allegedly found smoking 'weed' in his room.