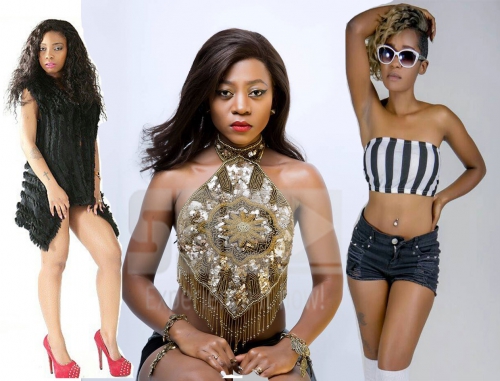 From their videos, photoshoots and in their everyday life, female artistes are always keen to keep their image on point. And our hot female Kenyan artistes haven't been left behind when it comes to pulling attitude.
Never shy to post provocative and sometimes downright raunchy photos of themselves on Facebook and other social media networks, these are artistes who many know for their image and not necessarily their music.
Have you seen that Victoria Kimani and Yvonne Darcq look in Ooh Lala Qui Qui that has men pausing and pressing the rewind button every time they play the clip? Well, there's more where that came from:
Noti Flow
On top of the list is Noti Flow whose recent posts have gotten the world talking. She likes exposing her curves, sometimes taking photos with her bare 'minimals'. She says she does not care what people think about her fashion sense so long as she is comfortable. She comes out as sexy, naughty and a no-nonsense girl.
QTY
QTY is another daring girl who can pull a freaky stunt anywhere and anytime.
"I am an artiste and so I dress myself according to the image I want to portray at a given time. Some of the looks are just made for the stage while most of the photoshoots I do simply bring out my artiste's personality," she tells Pulse.
The Crazy and Nataka singer too has her videos portraying her as sexy. Just go to the net and you will see the hundreds of photos she's uploaded, some that will leave you ogling.
Pendo
Have you seen this girl's new video Sometimes? All those bathroom bikini splash moments. Then she takes to the lush green compound in her nighty showing her chocolate skin. Well, that is not much, by her standards. Pendo is one girl who has dared to pose nude and most of her photos are just that. Having been a socialite, Pendo knows the X-Factor when it comes to music. Whatever you think of her, Pendo is that young girl who will adopt any look that gives her the attention.
Renee
In case you are wondering who Renee is, just turn to our Pin Up page. She is one of the new hot singer's in town, signed to Grandpa Records, and part of the new brand of artistes bringing sexy back to showbiz. Thanks to her looks, she is probably the most visible girl in the Fimbo ya Tatu (Dawa ya Moto) Grandpa mega-hit. Boy, she is eye-candy and then some. Need we say more?
Sosuun
This other Grandpa export has fans talking about her looks more than they are her great music; which is fine. The other day, she released Sura ya Kazi, a good jam that has finally gotten her noticed musically. That said, knowing what an amazing body she has, Sosuun has invested heavily in photos that show her every curve. She is one hot number.