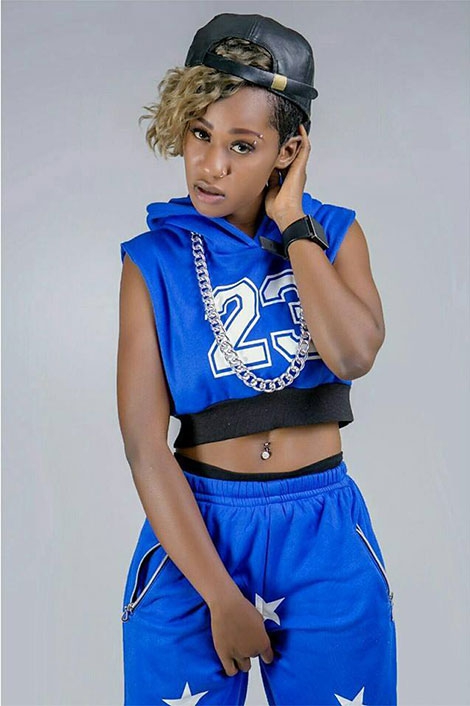 Pulse: Everyone seems astonished since you told Pulse that you swing both sides. Do you have any apologies to make about that?
Noti Flow: I have nothing to apologise about. When I revealed all that, I wanted the whole world to know the truth. Besides, that has been me for years. Showbiz bloggers have been calling me to confirm the story all week. It is what it is.
P: What about your boyfriend; does the fact that you are in the spotlight over such a matter bother him?
NF: He has always known me that way since we started dating. I mean, as long as I don't play him with another man, there is nothing wrong about me having my little fantasies with girls.
P: You had a nasty breakup last year that you captured in your You Said track. Did the breakup come about because of this particular issue?
NF: We had a serious back and forth with the guy in the one year we dated and it wasn't working. We had disagreements on my singing and acting career as he did not seem comfortable with the whole celebrity thing. I had to move on and well, that is now in the past.
P: You recently bestowed yourself the title of the hottest female singer in town and even went ahead to say Avril is no longer hot after which showbiz fans took sides. Are you still feeling the heat?
NF: Like I have said in the past, I like speaking my mind and people should stop thinking that I have beef with Avril. What I actually meant is that she was really hot back then but that is not the case anymore. She has put on weight and I miss the whole hot look.
P: Given a chance, would you work with her now that you say it's nothing personal?
NF: On a collabo? No. It is not something I would really consider. She can hardly come out hard like I do. Her songs are more of lullaby and I can't just stand that. No offence. I'm the Queen of Flow. I'm hot, am I not?
P: You said so. Besides, guys think you dress a bit too skimpy and that you are more about publicity than entertainment...
NF: Looks really matter in showbiz. Image is everything. If anyone has a problem with my fashion sense, they should live with it. Period. I have over four jams now; Queen, You Said and Hella are out there and I have been in studio putting together my debut album. I have acted in a number of movie projects that are yet to be released. As an upcoming artiste, I have my challenges and I am avoiding the pressure to hit the top overnight. Slow but sure, I am getting there.
P: Talking about tracks, what is this fresh beef between you and Abbas?
NF: Do I really want to talk about Abbas again! Do people really want to hear about him? Well, in short, I did a song I'm a Star with him a while back and he wanted me to pay him to feature in my song as well as all other expenses. I was like; 'Hey, dude ain't Lil' Wayne so that I pay him to feature him in my song'. I mean, the last we remember of him is 2012.
P: Was he the one you were dissing in Queen when you did the line; "Sijui queen wa rap...king wa rap...I'm the queen here..."?
NF: I am the Queen of Flow. Collo is good. What some of these guys should know is that there is fresh talent out here and they should swallow their egos and give the newbie artistes a chance to shine. It is only in Kenya where established artistes don't help new talent to rise and grow. This is one of the problems we are having in the industry right now. Things should change.