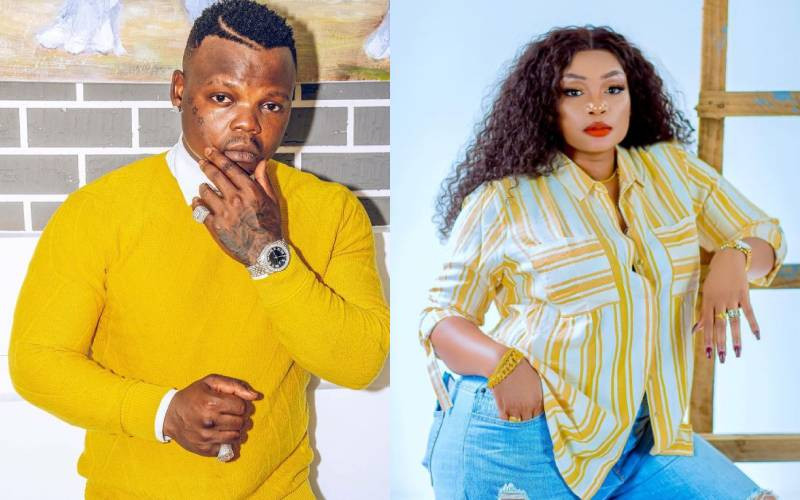 Tanzanian actress Frida Kajala seems to have forgiven her ex-boyfriend singer Harmonize.
Kajala decided to unblock her ex-boyfriend after blocking him for several months and unfollowing him on Instagram.
According to Harmonize, his numerous attempts to win his ex-lover finally paid off as Kajala forgave him.
Although he chose not to go public with the news of their reunion Harmonize says they now spend time together mostly at the gym.
"Thanks for motivation wife. 23 minutes every day it feels like nothing. You made me a support man and a good boy again. Can't wait working out together," said Harmonize.
Hinting at her reason for forgiving the singer in a previous Instagram post, Kajala said, "Forgiveness isn't saying what they did was okay, it's just saying you won't hold onto that negative energy any longer."
In an attempt to win the love of his life back, Harmonize erected a billboard estimated at more than half a million with an apology on it.
"I used almost 12 million on the billboard and it's gonna be there for 6 months. And if you ask me the reason, is that our situation is very crazy but I believe If God allows us to be together again, it's going to be one of the most inspiring relationship. See her and me get back together, is something I'm wishing for, and I know, when I look at the situation it was so horrible but that is in the past. We are going to inspire a lot of people if we ever get back together. I really wish she comes back and I pray to God every day for that to happen because I can't pretend anymore," said the singer.
When that did not work, he proceeded to buy her a brand new Range Rover Evoque.
"Ila nimeona wewe ndo unastahili hichi kidogo changu natamani ujue kwamba nakupenda sana narudia tena nisamehe na unipatie nafasi ya mwisho i love you take me back nakumbuka kuna siku ulisha wahi niambia hii ni moja ya gari ya ndoto yako please take it from me I love you," he said.
Harmonize and Kajala broke up two months into their relationship after Paula, Kajala's daughter, accused the singer of seducing her.
"So sorry my daughter I'm gonna be stupid if I die today without saying this sorry for putting you in very bad situation special for your age..!!! I feel so bad as father wa mtoto wa kike pia I don't wanna go so deep to it cause so painful. Just know that I'm still proud of you making your momy proud still remember all good memories we been together as family you been calling (pops) I'm so proud of who you become my God protect you I'm so so sorry!!!" said Harmonize.
Related Topics