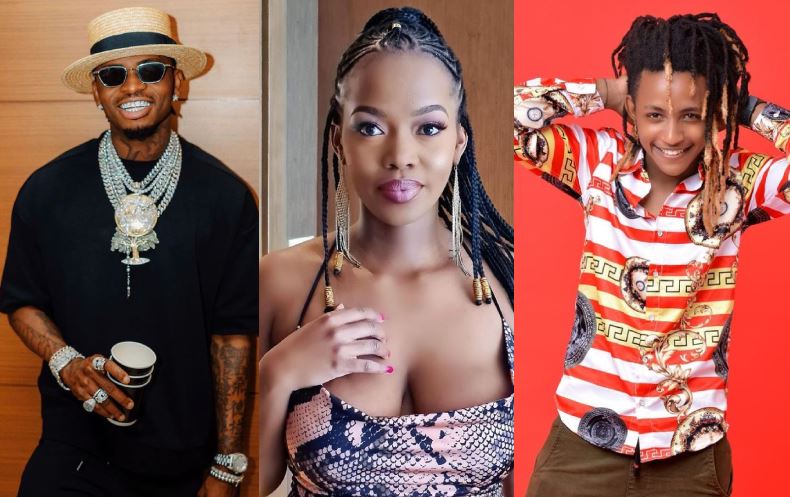 It is safe to say the year 2021 has been challenging for many. With the Covid-19 pandemic, most businesses and enterprises have been crippled, making life even tougher for some.
However, despite the rigid economic times, several celebrities have been lucky to stay afloat and reap the fruits of their hard labour.
To appreciate themselves for their hard work and dedication, a few decided to go big and gift themselves sleek new rides.
Davido
The multiple award-winning artiste recently bought himself a brand new Lamborghini Aventador estimated at Sh62 million.
Flaunting the car on his social media stories, Davido revealed that the car was an early Christmas gift to himself, promising to slow down on car purchases moving forward.
"Christmas came early," he wrote.
"I promise that was the last one. No more cars for a while," he added.
Diamond Platnumz
In July, the Wasafi Classic Baby (WCB) CEO acquired the highly coveted 2021 Rolls-Royce Cullinan. The vehicle is one of the most luxurious cars in the world.
Depending on an individual's customising needs, the vehicle's estimated price ranges from Sh50 million to Sh90 million.
The singer bought himself a brand new Cadillac Escalade Black Edition a month before that. The car's interior mimics a private jet.
The two vehicles make up a fleet of luxurious cars the talented singer owns.
Mr Seed
Gospel singer Mr Seed gifted his wife Nimo a new brand Mazda Demio 2013 a few weeks ago as an appreciation for her support.
"New car for @nimo.o_ Small gift for wifey. Thank you for holding me and our family down. We work as a team, we win as a team. Glory to God. I love you and drive safe. Ile siku nitakununulia Range Rover ndio nitasema testimonies haha for now wacha tumalize December na hii… God bless you," wrote Mr Seed.
Corazon Kwamboka
After purchasing the Mercedes Benz E Class, businesswoman Corazon joined the Mercedez Benz club not too long ago.
Sharing the news with her fans on social media, the mother of two explained that the car was an appreciation to herself for her hard work.
"I have finally joined the Merc club. I had to gift myself for years of hard work and investments," she wrote.
However, the news elicited mixed reactions among social media users, with some bashing her boyfriend, Frankie, for letting her buy the car on her own.
Corazon responded, saying, "This trolling is now becoming obsessive. I took Frankie to Mombasa for his birthday. He took me to Zanzibar for mine. Now if you guys are the type of women that only want men to do stuff for them and gift them boxers on their birthdays, good for you."
Adding, "I take pride in working hard as a woman and being able to buy anything I desire for myself through my blood, sweat and tears."
Tileh Pacbro
Talented Dance 98 Academy founder recently gifted himself a brand new car manufactured by the Renault automobile manufacturing company.
Flaunting the ride on social media, Tileh joked about becoming a motivational speaker considering his growing success.
"Bought me my first set of wheels. Hold me before I start giving advice on how to read seven books every morning," he wrote.
The dancer relocated to Spain about four months with his wife, Martina.
Mwalimu Rachel
Like Davido, the NRG Radio presenter got herself an early Christmas gift, and netizens could not keep calm.
Showing off her new Mercedes Benz C180 (W205) on social media, the media personality advised netizens not to give up on their dreams.
"So even when I cried I knew I would be fine. Prepare for a miracle blessing in these times. Now praise Him, raise Him, name it and claim it. I breathe success in and out my lungs. I got the power of life and death coming out of my tongue. DO NOT GIVE UP ON YOUR DREAM!
"Thank you mama for your prayers, encouragement and love. It has never mattered what I own, you love me just as I am. Arya is now blessed," she wrote.
Sean Andrew
For his 28th birthday, former President Mwai Kibaki's grandson, Sean Andrew, bought himself a brand new sleek Mercedes Benz.
"I am in love," he captioned the picture shared in his Instagram stories.
Thee Pluto
Social media influencer Thee Pluto recently turned a year older, and to mark his special day, he gifted himself a brand new Land Cruiser TX.
"Another toy to my Kingdom just before my birthday celebrations tomorrow. Land Cruiser TX," he wrote.
The luxurious car is estimated to cost between Sh6 million and Sh7 million.