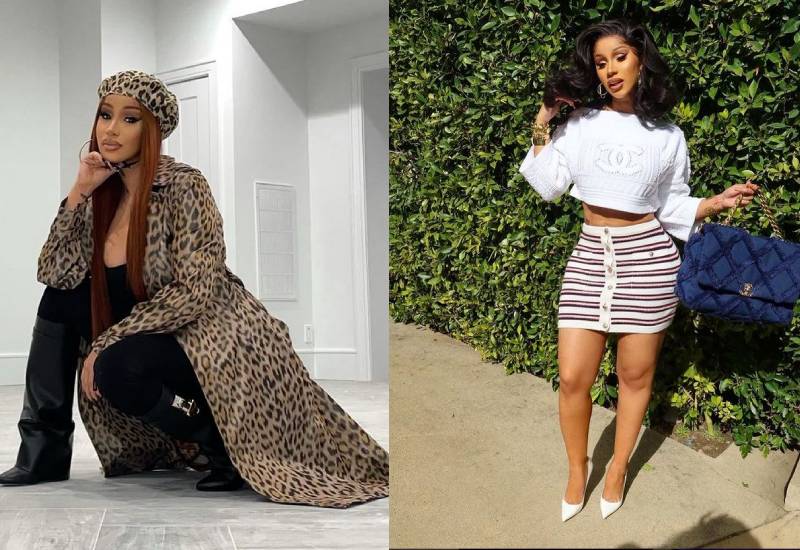 The annual American Music Awards (AMAs) which recognizes popular songs, artistes and albums was held yesterday in Los Angeles, and fans can't stop talking about host Cardi B's spectacular outfit changes.
The rapper spoke about hosting the award show before its actual date, saying that she looked forward to it and would "be herself" for the special night.
"I'm the host, but I feel like the performers and their performances, it's like their night, you know what I'm saying? Like when you perform, it's your night. And I'm just going to be myself. There are going to be certain things that I read on the teleprompter, but I'm just going to freestyle it because I don't like feeling like I'm talking like a robot," the Bodak Yellow rapper told Variety Magazine early this week.
Cardi also said that the evening would determine how she feels about possibly hosting more award ceremonies in future, like the Oscars.
"If people love me, then I'll do more. If people don't love me, then I'm just going to go home and go to sleep," she said.
And on the D-Day, the rapper's powerful and confident nature shone through, and she impressed fans and famous friends alike.
From the get-go on the red carpet, Cardi took the limelight, wearing a black strapless dress with a vail and a gold mask.
The look was described as bold, dramatic and a statement piece.
"The rapper and host of the night opted for a dramatic Schiaparelli look to walk the red carpet at the 2021 American Music Awards on Sunday night," Entertainment Tonight reported, adding that such interesting designer looks were anticipated as she had promised to showcase high-end fashion on the evening.
When Cardi took to the stage, her first look was a black velvet high-neck gown with couture feather headpiece by Alexandre Vauthier.
It was another over-the-top yet chic look that fans went wild for.
"I'm not going to lie, I'm nervous, I'm shaking, I'm sweating. But enough about me, tonight is going to be fire!" Cardi said in her opening monologue.
Next, Cardi reportedly "rolled up on stage on top of a Louis Vuitton suitcase, wearing a black dress with silver shoulders and shimmering thigh-high boots."
In another widely talked about look of the evening, the 29 year old artiste wore a semi-sheer neon yellow number from Jean Paul Gaultier's Fall 2019 couture collection. She spotted the piece while accepting the award in the Favourite Hip-Hop Song category for her hit "Up."
The mother of two also stunned in a dramatic purple velvet Jean-Louis Sabaji gown with feathers and crystal embellishment.
The Press rapper left fans in awe when she spotted a major headpiece in another outfit change.
"To the audience's surprise, she rocked a second headpiece, another pair of gloves, this time fingerless, to go with a figure-hugging black and white suit," Daily Mail reported about the bustier-style number.
And the trendy artiste was edgy enough to rock leather pants on the big night, which she paired with an intricate jacket.
The final look was a dazzling all-white outfit with a hood.
"She smiled for the cameras from under a statuesque hood, embellished with a crystal trim and firework-shaped accents. Underneath it, she wore a trailing gown with a thigh-high split and a pair of satin platform heels," CNN Style reported.