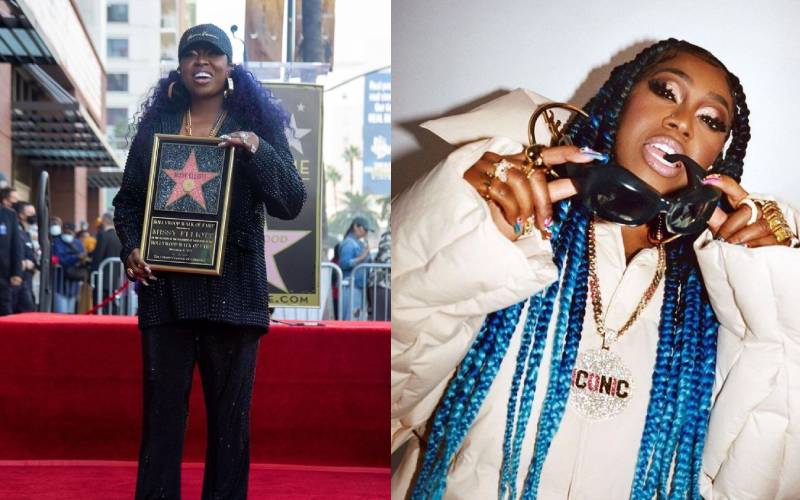 Hip Hop star Missy Elliot took to the stage in Hollywood to receive her honorary induction to The Hollywood Walk of Fame.
Born Melissa Arnette Elliott, the artiste becomes the 2,708th star to be inducted into the hall of fame for her career as a singer, songwriter, producer, and dancer.
The Portsmouth, Virginia native was joined by family, friends, colleagues, fellow artistes Ciara and Lizzo to celebrate this milestone that has seen her break barriers in the music industry.
Elliot was termed one of the most significant female artistes in music history for her role as a Hip-Hop and R&B pioneer.
While honoring her friend with whom she has previously collaborated, 'Level Up' singer Ciara considered herself lucky to have had the opportunity to work and get to know Missy Elliot personally.
"Somehow, I got lucky enough to have Missy Elliott as my mentor and big sister. She made it seem like anything was possible and she still makes me feel that way today," she gushed as she looked over lovingly at Missy.
"She paved the way for me and many others that followed. There is no one like Missy. No one like Missy. She oozes with boundless creativity, a visionary, the epitome of true artistry, strength, integrity, and grit. She created genre-blurring sounds of a modern hit-maker that continues to defy space and time."
Lizzo, on her part, heaped praises on the star, terming her as the brightest star in the universe. She made these remarks as she sang along to Elliot's 'Work It' lyrics.
"You're the brightest star in the universe, Missy. I don't have the history they have with you, but I've watched you my entire life. I didn't prepare anything today because I thought I was just coming to hang out and now I'm about to cry."
"You have no idea what you've done for so many Black girls. We don't deserve you. We don't deserve Missy Elliot and still, you continue to give to us. You've given and given and given with your heart, your genius," she concluded her emotional speech.
A visibly emotional Missy Elliot accepted her honour and had so much love and gratitude to her fans and followers who have been so supportive of her career.
"I came here 20 years ago and just used to walk past all these stars and just imagine. It's just a blessing to dream big. I wanna send love to everybody from Virginia. 757, I love y'all. My mother has been the backbone to everything that you see standing here. Timbaland, who couldn't be here, but that is my right hand. We spent so many times at his house, dreaming of just doing music. Not even being successful, but just doing music and we stuck by each other all these years," she said.
Missy Elliot, 50, took her time to honour the women who have inspired her in the music industry.
"I wanna give a big shoutout to the godmothers of this, and that is Queen Latifah, Monie Love, Sha-Rock, Angie Stone, Roxanne Shante, Yo-Yo, MC Lyte, Salt-N-Pepa, and I know I'm probably missing some, but all of y'all who started before me— y'all are the backs that we stand on". I thank y'all for this moment", she concluded.