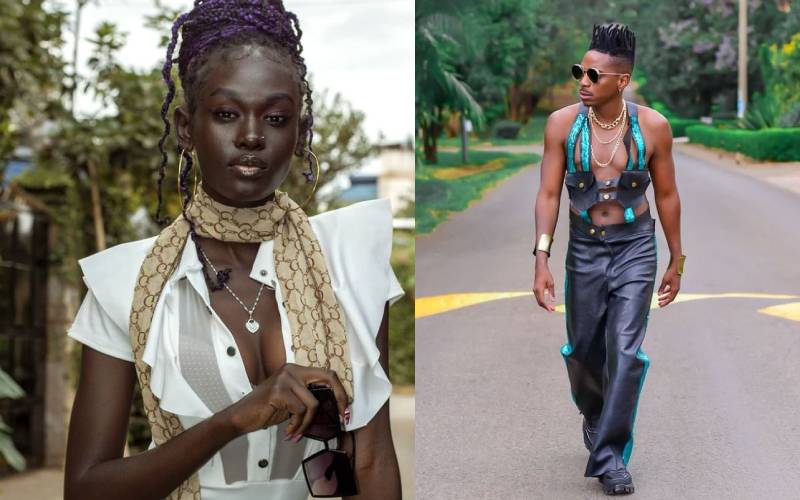 The winner of Eric Omondi's Wife Material season 3, South Sudan model Ayen Monica, has spoken about her relationship with the comedian since the show's ending.
Taking to Instagram, Ayen posted a 5-second video getting cosy with Eric and accompanied it with a lengthy caption stating her disappointment for getting into a relationship with the comedian.
In her statement, Ayen says she feels heartbroken after Eric took advantage of her patience despite supporting him even when he was in the wrong.
"I'm not here to say much just to say I'm disappointed again it's the fact that he knew I was patient and took advantage of it, it's the fact that I supported him even if he was wrong he brought me all the way from my country to come and make me feel like I have to fight my way through his heart I feel so dumb and heartbroken right now being kept in this situation that I never asked for," read the statement in part.
Ayen stated that she did not want to be involved with the comedian following the fake pregnancy stunt with singer Miss P and the drama between him and baby mama Jacque Maribe.
"I don't want this marriage or whatever relationship that is happening between us to continue because I told you from the beginning that I don't tolerate liars! It was the fake pregnancy first I understood it then your baby mama drama and then now you're not home what is all this?" Ayen added.
The model, who disabled the comment section on her post, told the comedian that he would never settle down unless he treated his next wife material better.
While announcing the winner of the show's final season, Eric had vowed to love and protect Ayen, saying he couldn't wait to start a family with her.
"I will respect you, I will honor you with all Dignity. I promise to protect you. I can't wait to Start a family with you. I cannot wait to make beautiful babies with you. You are not only a super Model but you possess a Super heart. You Compliment me baby. You Complete me my love," wrote Eric.
Ayen's post comes days after Eric became the talk of the town following his online scuffle with media personality Jacque Maribe concerning the paternity of their seven-year-old son.
In his post on Instagram, Eric claimed that he had been asking Maribe for a DNA test to confirm that he is indeed the biological father of their son, something that she continually declined.
However, during an interview with a local radio station, Eric announced that he would continue being a present father in the child's life regardless of the DNA outcome, should Jacque agree to his request.
"I want the DNA test but Jacque does not want it. For seven years, we have had a push and pull over the DNA test. Let's not get the child involved…. I will take care of the child regardless of the outcome," he said.