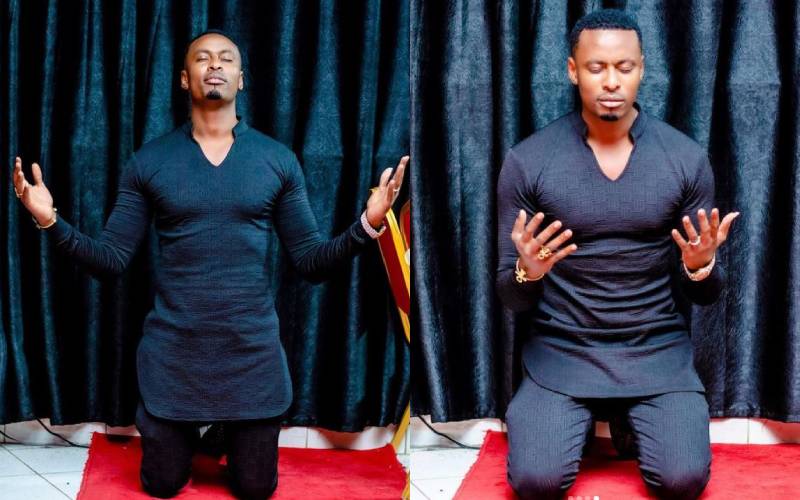 Founder and CEO of the FBI dance Ezra Njagi, popularly known as Ezra FBI, has revealed circumstances that led him to respond to the altar call. In a video shared on social media, the flashy dancer said he heeded his inner soul's call and decided to turn his life around.
"I had made a promise to turn my life around if certain things worked out for me," he said. The now born-again Christian said he is ready to serve God. "The truth is that my mother fell ill and had been admitted to the high dependency unit for three weeks. That broke me and I had to seek divine intervention".
Ezra said his mother exhibited symptoms related to coronavirus. Upon running tests, their worst fears were confirmed. 
"The three gruesome weeks were my darkest, and I vowed to God that if he would heal her, I would sing praises to him. I am now born again and embarking on a musical journey," he said.
Ezra then went to Lucy Natasha's Empowerment Christian Church, where he was warmly welcomed. Reverend Natasha prophesied that he would become a great gospel artiste henceforth.
She said: "And you see, even though I am praying for Ezra, God will use you to sing gospel music. God is going to give you gospel songs."
The occasionally controversial celebrity had in the past been on record as saying he desired to change his worldly ways.
"I was tired of this nightlife. Indeed, that partying lifestyle was truly not mine. I was moulded in church at a very tender age," said Ezra.
Despite the occasional gospel industry's hypocrisy and infighting, Ezra says he will focus on his Christian faith. Will he join Natasha's swagged up protocol team?
"Well that is not my focus at the moment, but time will tell," said the artiste. Ezra has already recorded his debut single, featuring Mr Seed.