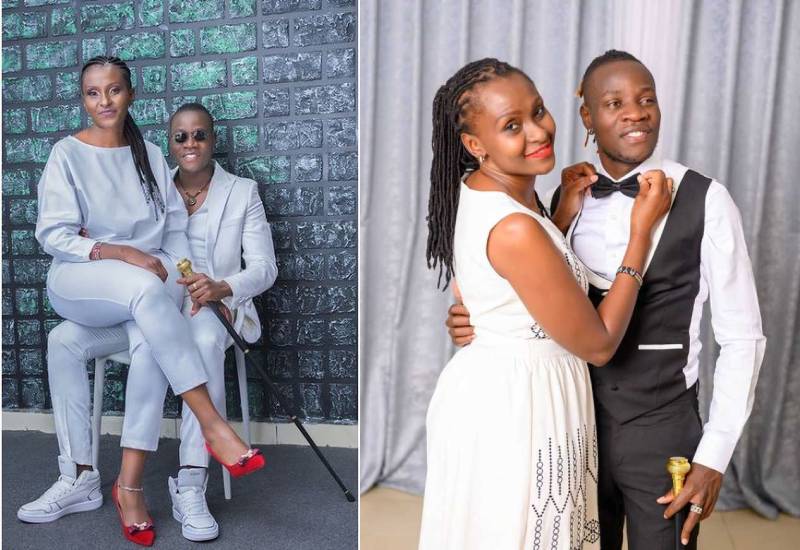 Gospel singer Guardian Angel, real name Peter Omwaka, has once again had naysayers backtracking on their words after he took to his official Instagram account to praise his fiancée, Esther Musila.
The 32-year-old artiste and his 51-year-old beau were once the talk of the town because of their age difference, but now their fans and followers alike have accepted the relationship and even become very supportive.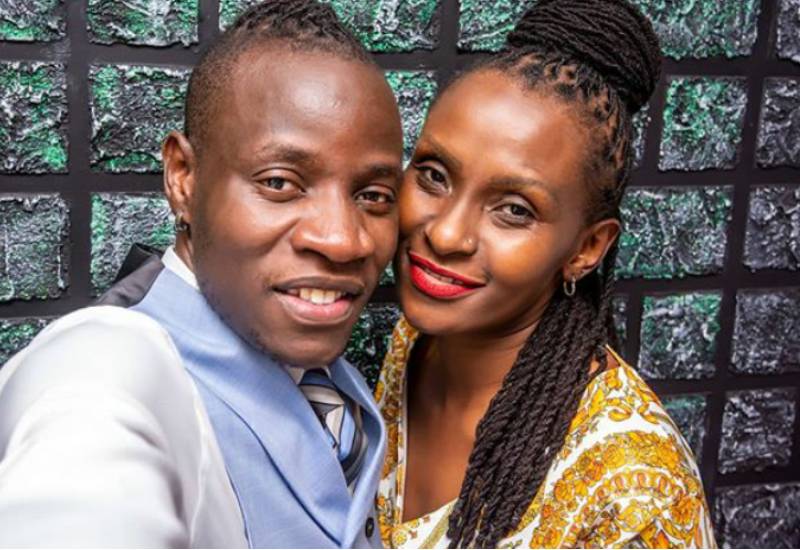 Omwaka posted several professional pictures of his lady early Monday morning, accompanied with a heart-warming caption that hints the pair are happier than ever.
In the images, the "Kuongozwa" singer poses with Musila in matching cream coloured outfits, both beaming.
In one of the photos that has caused a stir and is making rounds on social media, the couple looks dashing and cosy, Musila sitting on her fiance's lap.
"If I had listened to their noises, I would have lost a special gift. I am proud of me," Omwaka captioned the post.
He followed the post with another one, this time of Musila alone, captioning it, "Mine."
His colleagues in the entertainment scene, along with fans were quick to show their support for the blossoming relationship in their comments.
"We are sorry," joked DJ Mo, referring to the humorous compliment style popular in Kenya, while gospel singers Betty Bayo and DK Kwenye Beat commented with fire and "top arrow" emojis.
His fianceé, Musila responded to her lover's post with a warm, appreciative one of her own, reminding him that he is not responsible for everyone's happiness.
"Aww my G, don't ever feel bad about making a decision about your own life. You are not responsible for their happiness, you are responsible for your own happiness," Musila wrote in her comment.
She added; "Anyone who wants you to live in misery for their happiness should not be in your life to begin with. I am proud of me."
Fans also praised Musila's age-defying beauty in their comments.
"Is this lady truly even 40 years old? How can I believe she is above 50? Esther lovely as ever," wrote an Instagrammer going by the name Janet Mbithe.
"You look lovely. You are ageing gracefully. Indeed favour located you," wrote Jacqi Mich, while another wrote, "Beautiful is an understatement."
Guardian Angel's fiancée Musila also posted the same images on her Instagram account, captioning the post with sweet, romantic words of her own.
"Owning our story and loving ourselves through that process is the bravest thing we'll ever do. To be yourself in a world that is constantly trying to make you something else is the greatest accomplishment. My life is full because I know I am loved," Musila wrote.
Musila, who is a mother of three, revealed in a June interview with Standard Group's Spice FM that the two fell in love by chance, and that she was not looking for it when they crossed each other's paths.
"When I met Guardian, I was not looking for love. I was not looking to be in a relationship. How things started taking place, I can only say it is God. When I was turning 50 years last year, I had a conversation with God, and I told him, I want to do things differently in my life," Musila said at the time, adding that the two had initially hesitated about making their relationship public before finally deciding to live their truth and bask in love.
The singer proposed to his long-time partner in May on her 51st birthday, noting in an Instagram post that Musila was definitely 'the one' for him.
"Since the first day I fell in love with you, I have always been confident that you are the one. I am proud I chose you. You have made me believe that there is true love," the artiste wrote.