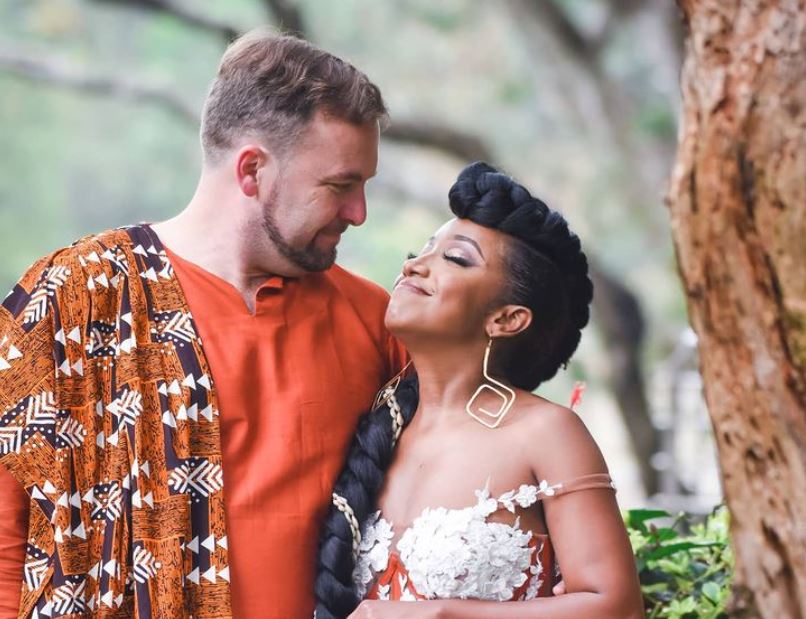 Media personality Anita Nderu has officially introduced her fiancé, Mr Barrett Raftery, after months of dating in private.
Pouring out her heart to her husband-to-be in a social media post shared on her Instagram page, the former Capital FM presenter wished she could continue loving her fiancé in private away from the prying eyes of the public.
However, keeping their romance cloistered has proven impossible after netizens figured out they were together and shared their just-concluded traditional wedding pictures on social media.
"Everything about you makes my heart melt with happiness. I wanted to cherish my human and keep him to myself for as long as I could since the cat is out of the bag now, atleast spell his name right. He is Mr. Barrett Raftery," she wrote.
Anita and Barrett's relationship first caught netizens' attention during her birthday celebrations in February after they were photographed kissing and enjoying each other's company.
The celebrated media personality went on to raise even more eyebrows when she took to her social media to thank her close friend and media counterpart Amina Abdi and 'B' for making her day special. 
"@aminaabdirabar called me weeks before my birthday and was like "Babe I know you love birthdays and you are extra, if you were to get the birthday of your dreams how extra would you want it? I swear on Mary had a little lamb I told her things thinking we were joking around and only realized her and B were actually throwing what I can only call an event less than a couple of days to the day. I owe both of them a child at this point it is the only thank you humanly possible. They went so extra, my extra self was shook and that is hard to do," she wrote.
The presenter's new relationship came as a surprise to many, considering she had been in a long-term relationship with her now ex-boyfriend Sunny, and not once did they show any signs of having split.
Unlike her new relationship, Anita and Sunny expressed their love for each other publicly.
"At last all the 29 related jokes will come to an end. It's that time of the year where we get to be age mates again! In the 365 and quarter days to follow may each day bring you happiness, health, wealth and prosperity and tons of trips around the world which I will insist on being on. You are loved and cherished! Legitimately speaking what would we do without you.
"I say this to you every year but it never gets old (like you are now) because it is very rare to find humans like you who love unconditionally, are extremely kind to people they know and to strangers, stop at traffic light stops," wrote Anita?