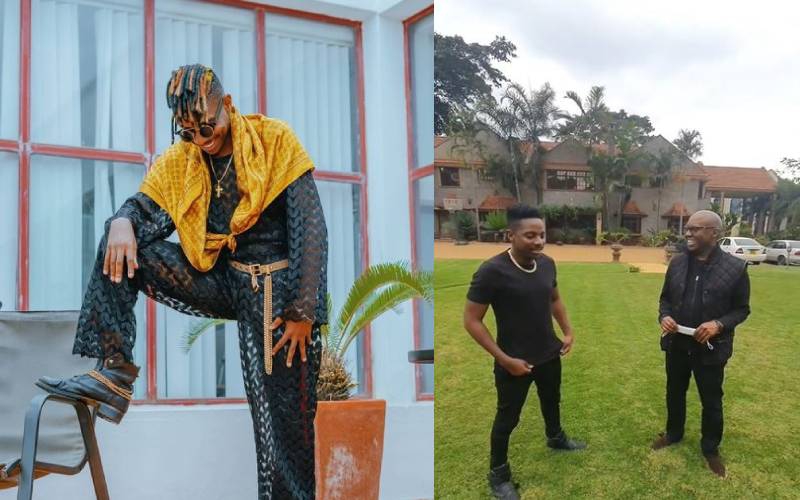 Comedian Eric Omondi is smiling all the way to the bank after meeting billionaire businessman Jimmy Wanjigi and officially landing the role as his chief campaigner.
"We have agreed that in the coming months, I will be communicating Wanjigi's vision for Kenyans," the comedian revealed to Standard entertainment.
The meeting comes days after Eric was trolled on social media for endorsing the flamboyant wheeler-dealer for the top office in his 'fagia wote' campaign. In his campaign, Eric urged the youth to vote wisely, get rid of recycled politicians, and go for youthful, fresh leadership.
Netizens, however, blasted him for endorsing the tycoon, insisting that the move was owing to his deep pockets. "You forgot to indicate it's a paid partnership," a fan mocked.
However, the comedian insists that Wanjigi was his pick, and they had never deliberated about his campaign before meeting at his Muthaiga residence this morning.
"This was our very first physical meeting and he has shared with me his manifesto and development agenda for Kenya. Now I'm his official spokesperson who'll break down and convey his agenda to Kenyans," the comedian revealed.
Though he declines to disclose how much the agreement settled for, Eric laughs the question off, saying, "That's how I'm going to the bank. Laughing not smiling," hinting that they may have agreed upon a sizable figure.
Omondi insists he has no regrets endorsing the billionaire businessman for office in 2022 and describes the online trolls as just another casual day with Kenyans.
"It doesn't move me. Kenyans of a different opinion than yours will always feel entitled to bash you. It is everyone's right to support their candidate and I'm no different. That's why I have pledged my support to his ideology having seen his track record as the leading businessman in the county," he says.
Eric shared a video as Wanjigi gave him a tour of his exquisite mansion, which includes a helipad in his front lawn and is also rumoured to house an underground bunker.
Asked whether he would consider being Wanjigi's running mate or his interest in vying for office, Eric responded, "I think the youth are suffering and yearning for a leader with their solutions. I will not be Wanjigi's running mate but I will support his course and vision as he explained. However, in future, don't write me off for the ballot. Considering that I'm the President of comedy in Africa I may as well make my political dream a reality."
The comedian has, however, urged entertainers to be informed in their decisions when endorsing leaders. "Don't just do it for money. Do what will impact the future and your career. Instead of wasting time bashing Eric Omondi, why don't you show us a leader you think can or has made a difference?" he challenged.