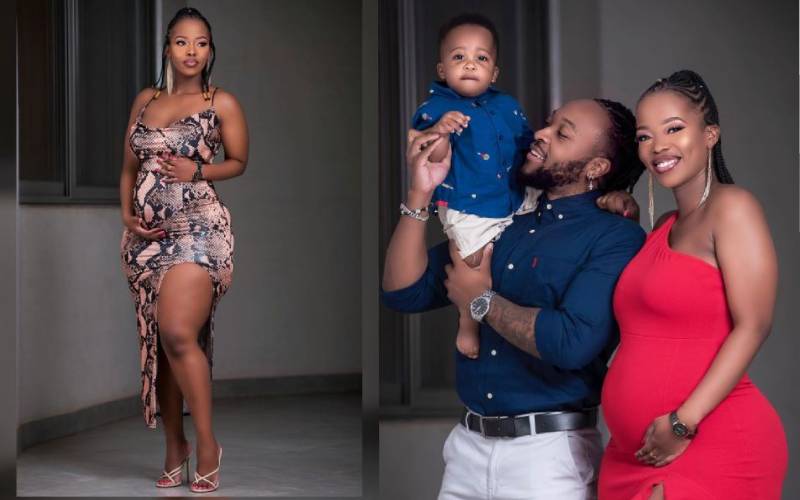 Fitness trainer Frank Kiarie better known as Frankie JustGymIt, and girlfriend Corazon Kwamboka are expecting their second baby.
Sharing the news via Instagram, Frankie posted a family picture, holding their first-born baby, while Corazon posed in a red fitting dress showing off her growing bump and captioned.
Corazon also shared the news with her fans, thanking God for blessing her to be a mother of two.
"Thank you Jehovah for blessing my womb yet again!!! How many praises can I sing, how loud can I say thank you my God. From a hopeless Endo warrior to a soon to be mom of 2!!! To my angel; Your big brother and I can't wait to meet you and to love you forever, "wrote Corazon.
Frankie and Corazon have a son together, Tayari, who turned one on August 9 this year. While announcing their first pregnancy, Corazon said she opted for a boy but would have been okay if she had a daughter instead.
"I'm almost 22 weeks and we are about to find out if it's a boy or a girl. I will Love them, if it's a girl we gonna name her Kesia and if it's a boy we are going to name him Tayari which means our love in Spanish," said Corazon.
Frankie recently took their relationship to the next level after proposing to Corazon while on vacation in Zanzibar.
Taking to Instagram, Corazon shared a picture of her engagement ring while Frankie held her hand, saying she couldn't wait to get married.
"I said yes!!!! To happiness, to love and to a whole lot of fun with the one person I don't ever want to live without. @frankie_justgymit can't wait to say I do," Corazon captioned the photo.
The couple first confirmed their relationship in 2020 while speaking to popular blogger Edgar Obare, saying they had been dating since December 2019 but kept it under wraps for fear of backlash.
"We kept the relationship a secret because we did not want the backlash and people taking photos of us together. Edgar, I never took her out for any dates. We always had meals at home since we did not want people taking photos of us," said Frankie.