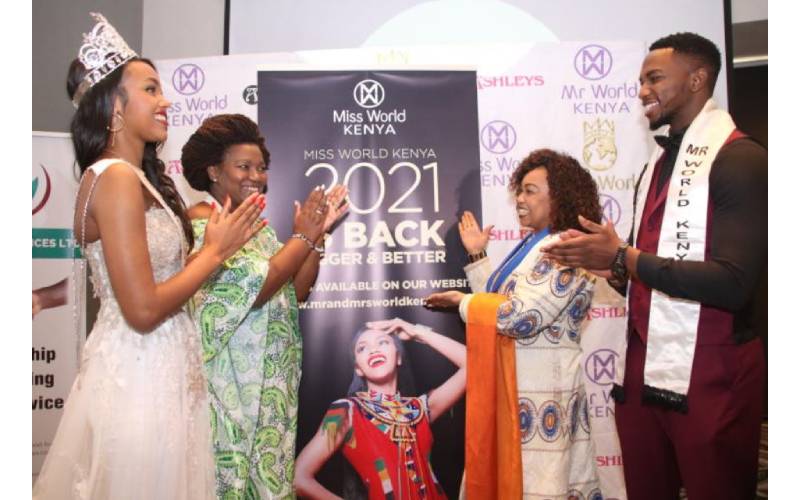 The Miss World Kenya beauty pageant is back after taking a one-year break as a result of the Covid-19 pandemic.
The pageant that celebrates its 70th anniversary this year has over the years attracted a high number of participants.
The competition is scheduled for August 28 to crown the winner, who will further represent the country globally in December.
"Although we notably skipped the event last year due to the pandemic, we are proud to announce that this year we are back, bigger and better," said Terry Mungai, the Miss World Kenya franchise director.
"In honour of Wangari Maathai's 10th anniversary, the franchise is going green this year. This means embracing a way of life that enables us to conserve the environment by reducing, reusing and recycling items. We have committed to planting over 3,000 trees," said Ms Mungai.
She added: "We are excited to partner with Chief Administrative Secretary Rachael Shebesh for our Beauty with a Purpose project, in a bid to break the stigma surrounding mental health illness."
The launch of the pageantry competition in June paved way for the training of the participants at The Trademark Hotel in the presence of life coaches, fitness enthusiasts as well as brand influencers.
Shiv Simani, a cross-fit trainer, has been at the forefront training the girls while influencers such as Maureen Waititu as well as gospel artiste Daddy Owen have been key contributors at the boot camp. 
Wavinya Maria, the reigning Miss World Kenya, has been instrumental in championing the end of period poverty as well as tackling the challenges surrounding early marriages and FGM. The beauty queen finished sixth in the global competition held in London in 2019.
"I always knew my reign as Miss World Kenya would be like no other. I am grateful for the opportunity to have raised the Kenyan flag high, as well as advocate for an end to period poverty and provide sanitary towels in different counties in the country," said Maria.
Past crown holders include Evelyn Njambi and Magline Jeruto, who were crowned Miss World Africa in 2016 and 2017 respectively.
The finale, which will be held at The Trademark Hotel, will be an invite-only affair for 100 guests present.