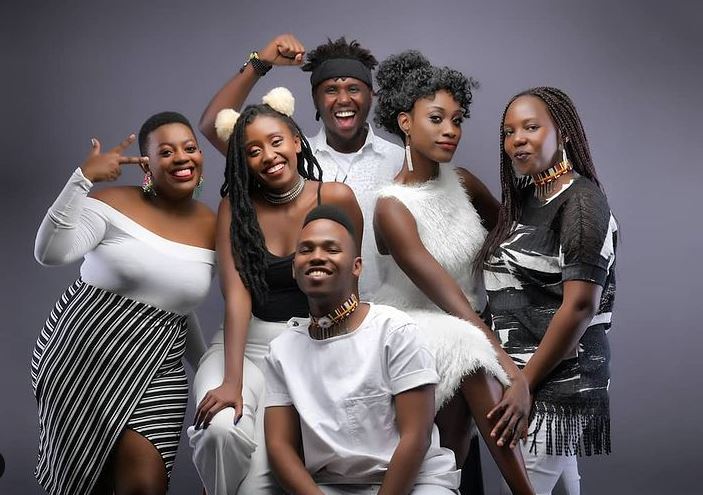 Wanavokali, which loosely translates to, "those with the vocals" in Kiswahili, is a collection of six different talents namely; Chep, Lenah, Mellah, Riki, Sam, and Ythera.
Six talented individuals who share a passion for expression through music, fashion, and art.
Their latest project pays homage to the golden era of Rhumba music and culture. With its characteristic guitar licks and groovy baselines, Rhumba tells the story of two passion-fuelled strangers dancing the night away.
Set against the backdrop of smooth silky vocals and laced with modern trap beats, the feel-good party song is a constant reminder that you do not need money to have a good time, and that it is always the right time to "shoot-your-shot".
From their new and fresh sound to their energetic delivery, Wanavokali successfully made their submission to the familiar and nostalgic sound from their Kenyan roots, bringing an urban and youthful twist to it that promises to make you move.
The group that met in 2018 at the Safaricom Twaweza Live Tour, as background vocalists, has continued to cement their authority.
From being BGVs of the most celebrated musical powerhouses in Kenya and armed with the experience, they are proving they are a force to reckon with.
Despite meeting only three years ago and with their unadulterated chemistry, they got together as a collective a year later and nothing is stopping them.
They started off by posting covers of artistes they had worked with during the Safaricom Twaweza Live Tour and from this garnered a huge social media following and the unwavering support and adoration of Kenyans.
Soon after, they worked on their first original and collaborative project with gospel artiste, Collo G, releasing the single Unioshe, which was successfully received by local audiences and topped charts locally.
The song afforded them a Café Ngoma nomination for Best Cross over Act (2019-2020) and won The Verse 5 Awards for Collaboration of the year (2020). The video has, since, gained over 281,000 views on YouTube.
In 2020, Wanavokali became the inaugural winner of Old Mutual's Amazing Voices (OMAV), a Pan-African group singing competition held in Johannesburg, South Africa.
From a pool of 12 singing groups hailing from Ghana, Zimbabwe, South Africa and Kenya, the collective was able to bring home the much-coveted title of Amazing Voices plus a cash prize of Sh10 million.
As they said, getting to represent their country in the competition was a great honour and now Africa gets to view Kenya as a musical force.
With the win under their belt, grouped with all the experience they had gathered as individuals and as a collective, Wanavokali set out to create their first body of work.
The soon-to-be-released Self-titled album was born out of a truly unprecedented time in our history.
During the lockdown period, the collective was able to execute a series of "Creative camps" where joined by acclaimed songwriters and producers, they wrote, developed, and recorded music that speaks of their truth and portrays them as their most authentic selves.
The album talks about life in its entirety: love, dreams, lust, and desire for change, friendship, and celebration. Time's simple pleasures, and the joys and struggles that accompany them.
The sonic landscape behind this revolutionary work of art is centred on the potent yet soothing blend of voices distinct to the Wanavokali Collective.
Wanavokali, The Album, promises to speak of diversity, youth, fun, and family.
Related Topics