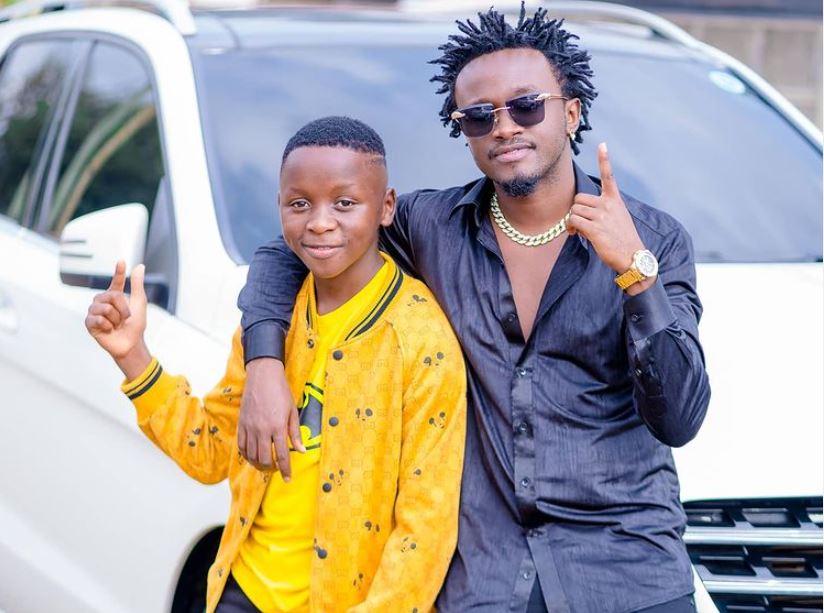 Singer Bahati has taken to social media to appreciate his adopted son Morgan Bahati for being a blessing to his family.
Using an old video of baby Morgan during the Barua Za Bahati album launch shot by the Standard Digital Entertainment, Bahati explained that he spotted the talented boy and spent time with him, only for Morgan to insist on going back home with him.
According to the Pete Yangu singer, adopting Morgan was anything but easy because he was financially unstable and could not care for a child.
"I was watching this Video and I found myself shedding tears; I get abit emotional when my thoughts go back to this very day. For those who don't know this is the day God brought to me this angel @morgan_bahati I was just starting in my music career; few years since I had left ABC Children's in Mathare, and this was my first concert ever! After the show the 2-year-old Morgan cried to go home with me and he did not want to go back to the orphanage where he lived after the demise of the parents; this was tough for me because I understood what he meant and even tougher considering I was still struggling financially to afford raising a child.
"The big complication was I lived in a small room and I was not qualified to adopt (I had no one to take care of the baby) I remember when I had to teach myself how to cook; I remember when I had to go with you on all shows before we could get a committed house help; I remember I could even date just to avoid the confusion of you calling different girls mummy," he wrote.
Things, however, worked out for Bahati, and he managed to adopt Morgan, and the two have since then grown as a family. 
"We have gone through a lot with you my son even when I looked at you I can't believe you can speak better English than me. This post is not enough to say it all... God has simply been faithful in our lives!!! Look at us now!!! You have the most amazing mum as you always wished; look at your sisters & bro; look at the wonderful family God has blessed us with. What else can we ask from God apart from being thankful!!! As we work towards being future billionaires keep this short video to always remind us where we have come from. I might grant you all the time & attention you need from a father but always remember that daddy loves you @morgan_bahati," he concluded.
Netizens were quick to appreciate the Award-winning singer for his selfless deed of choosing to raise Morgan as his own.
"And am sure he is the reason why God is blessing your family....be with that Heart Bahati and may God bless Diana too she is a Good mother for sure," wrote a user by the name Keyla_eye.
"All along I thought he was your son by blood hadi I cried you are a true definition of a good dad may God bless you every day every hour every minute @bahatikenya," added Starah_juma.