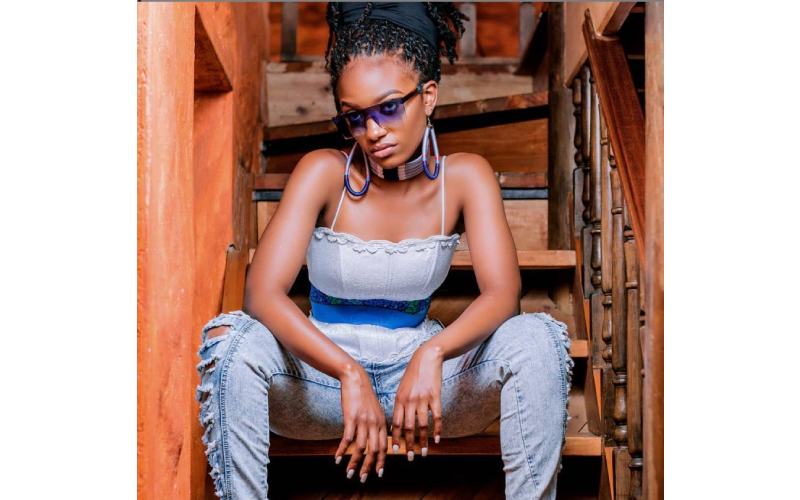 Popularly known as Wendy Kay, the songstress is an Afro-Urban recording and performing artiste who rose to acclaim through a stripped-down music cover version of Yemi Alade's 'Africa', which immediately went viral. Since 2017, she has grown churning out immersive good tunes and she believes there is no going back.
"I started officially releasing songs in 2017 and from there it has been upwards all through. Before Wendy Kay the musician was born, I was an actor - performed at a number of musicals, which saw me join a music development programme, Sauti Academy. It was a seamless transition when I started performing in shows," she says.
Wendy has had her music featured on the Netflix show, 'Sincerely, Daisy', and the highly acclaimed film titled ''You Again'' starring famous renowned actor, Nick Mutuma.
In 2020, she released her debut EP, 'My Way', which was later on followed by 'Crush' featuring Mbithi, which were all warmly received. 'My Way', a diverse four-track EP, explores Wendy Kay's perspective of life as an African millennial who is hoping to chase and achieve success through her rights and wrongs.
The EP sees the singer navigate various African inspired sounds from Afro House to Kapuka to Afro R&B. The EP is named after the lead single, which is a slowed down ballad about finding one's own rhythm through grit, determination, and sacrifice. It then follows through with an Afro house inspired track 'Mama Papa', which highlights the hustle a young African millennial goes through to achieve success yet still promising and providing for their parents.
"'My Way' is a testimony of my life thus far. Through the ups and downs, I am determined to live out my truth and not afraid to make mistakes at the same time. Through my music lyrics, visuals I communicate that message as honestly as I can to my fans. My Way Volume 2 features amazing collaborations of fierce talented musicians, which will be released soon," she says.
This year, Wendy was chosen to be part of the perform music incubator culminating in a virtual live show dubbed, The Golden Voice, which was released on YouTube. Coming off her EP, she recently released 'Panda Shuka', which translates to ups and downs.
The single serves a refreshing nostalgic sound with a slight Afro, twist vibe, inspired by the rich Kenyan musical history and pays homage to the pioneers of similar sounds in the same genre and the scene. It is another one of Wendy Kay's emotional rides that merges the distinct sounds of a very mellow rhythmic guitar melodic riff to a trap infused bass and drum line. It speaks of the highs and lows of life in general; the uncertainty of life, a hopeful future amidst all circumstances, and aims to encourage anyone against succumbing to societal pressures in the journey of life.
"I used what I had! If I had a lion or a tiger, I'd use it in my video and single cover art, however, I have a goat in my video. The song is for all going through various struggles and still making it work regardless. No matter the circumstances, you keep going! The cyclic nature and continuity of life just means that nothing lasts forever. Every day is a new chance to change your story," she says.
The songstress who believes one of her most useless talents is sleeping says that the industry has not been all rosy, but every day she is on the grind and breaking the barriers. "A lot of pre-assumptions are placed on female artists to look a certain way, to sound a certain way. But I love the new generation of female artists. We are fierce and amazingly unapologetic," she adds.
The only thing that she sees as a problem ailing the industry is that there are no proper music policies that are in place for everyone to get a fair share of the cake. But all in all, she is currently working on her album that she promises to drop soon.