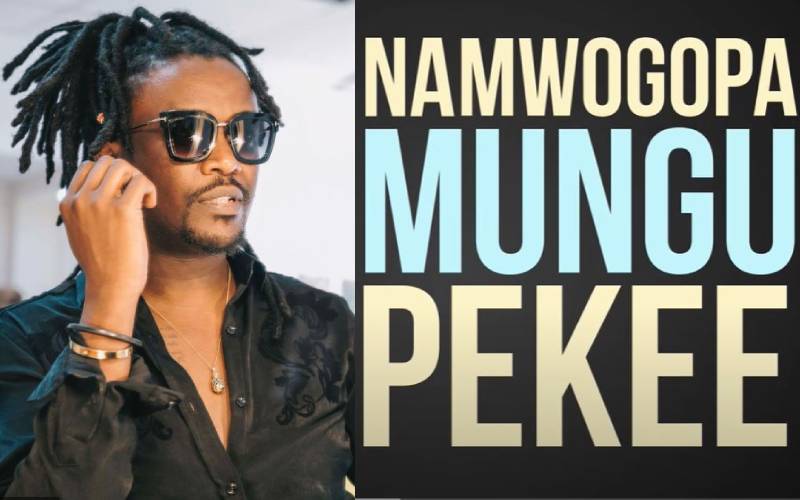 There's a mysterious revelation as to why Kenya's most critically successful Nyashinski's 'Mungu Pekee' track did not receive a music video treatment. According to the rapper's manager Fakii Liwali, it was too good of a song, and the video might have downplayed it.
The record was a spiritual rap ballad that was the zeitgeist of the 'Hapo Tu' artist when he made his miraculous comeback in 2016.  As Fakii recalls, "The pressure to drop the video was too surreal."
"The number of calls and texts I got, and he got, about what that song did to their souls to bring them out of difficult times. And what was helping them was that they could sing the lyrics because they could see the lyrics as the song was playing," Fakii said in an interview with Richard A-Star Njau on his Cleaning the Airwaves web series.
During the show, Fakii revisits the decision-making process and admits they shot a video that will never be released to the public because it was not fitting of the song.
The song's lyric video has gone on to accumulate almost 10 million views to date, and been chiseled as one of the most historic and career-defining tracks in the 'Wach Wach' rapper's illustrious music career.
"The song was missing something at the time, and Polycarp Fancy Fingers helped with putting the missing piece which was the guitar, that completed the song" Fakii mentioned, adding "Later on, we shot a video but opted not to release after we saw what Nicolas Mwendwa created with the lyric video"
He also said the song made him tear up upon the first time of listening, as he had an experience of "meeting God" while listening to it.