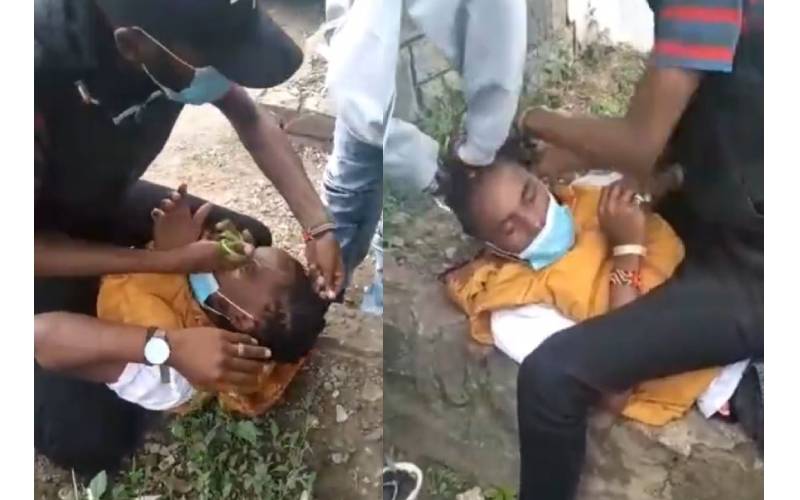 When a video of a young man having his dreadlocks forcefully shaved went viral, netizens were quick to react. With most sympathising and asking the young man who was recorded pinned to the ground to a scissors-wielding man as he cut off his dreadlocks, others were quick to say that the said man should pay up what he owes the perpetrators.
"Mbona umekaa na hiyo pesa for 7 months? (Why haven't you paid up 7 months in?)" the group could be heard asking the victim.
"Today we have to teach you a lesson," they threatened.
The innocent man could be heard pleading for mercy in the video, but they wouldn't take any of that.
"Surely, why are you doing this to me, and you know very well that I have been jobless all along?" he pleaded in vain.
It has now emerged that the victim is deejay Zawadi, a city disc jockey who had visited a local salon and had his hair done but, with the ensuing slow business due to the pandemic, had failed to pay up.
As it emerges, the salonist attached dreadlocks extensions to his hair with a promise that he would foot the bill once his cash flow opened. However, that was not forthcoming with the job cuts in the entertainment industry due to the pandemic.
After seven months of failing to pay, the salonist's boyfriend laid a trap and pounced on the unsuspecting deejay while armed with scissors as passersby looked on.
"Look for other girlfriends to steal from, not mine. We want our dreads back," the threats continued.
As they sat on him, pinned to the ground, his dreadlocks were cut off as more threats came in.
"Why have you been texting her yet for 7 months you haven't sent the agreed amount. This is Kayole and here we lynch thugs. Don't resist, otherwise it will turn ugly."
Deejay Zawadi has previously hosted estate gigs with renowned emcee and former Ghetto radio presenter emcee Smata. Smata condemned the action taken on the disc jockey, saying they shouldn't have taken the matter into their hands.
"They should just have taken him to the relevant authorities instead of humiliating him in public yet he was pleading calmly," said Smata.
Word is he eventually got a clean shave, but it is yet to be confirmed if they reached an agreement. Efforts to reach either party by way of phone proved futile by the time of going to press.