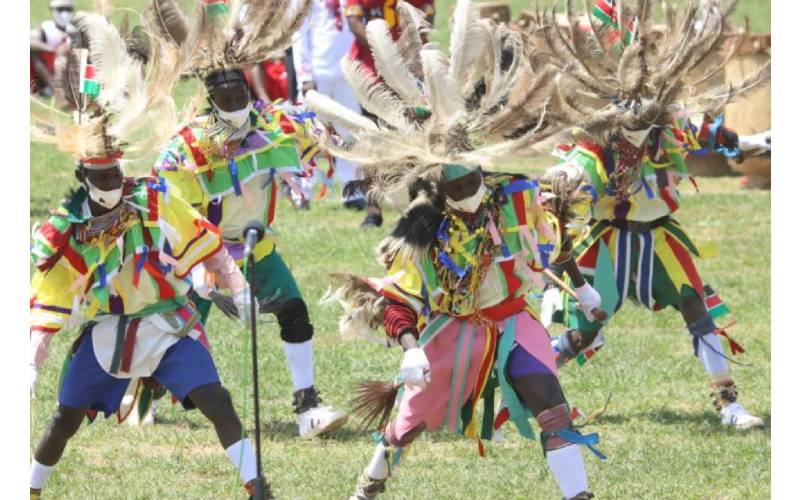 President Uhuru Kenyatta keenly listens to the performance with some nod and the occasional tapping of his feet. He is attending Madaraka Day Celebrations at the Kenyatta Stadium in Kisumu.
But as benga singer Osito Kalle takes to the microphone, the president cannot hold it any more. He rises to his feet and his joy is undeniable, as he dances to the Kenya Moja song belted out by the Kisumu All Stars.
The rest of the stadium is on its feet as freestyle takes centre stage.
Well, there have been many occasions when the president danced to performances but today, he is more fluid and seems to enjoy the beats with a genuine response to entertainment like never before.
A few weeks ago the nation went gaga with this performance put together by the Permanent Presidential Music Commission (PPMC), under directorship of musicologist Donald Otoyo.
Beamed live on national television, the song went viral on social media, with others terming the event "the best national holiday entertainment ever".
Celebratory mood
The high octane celebratory mood might have been raised by the evident developmental projects in the lakeside region.
But it could also be the over two months of research, devising and creativity that went into bringing the thrilling performance together.
The melodies, instrumentation, messages as well as choreography was not only original; the lyrics were new and would be befittingly called a musical premiere.
It was devoid of any sound tech issues that occasion such huge public performances and the transition from one item traversing the old to the new was seamless.
According to Dr Otoyo, the journey to success on this route started two months before the event, with casting of musicians from across Nyanza region.
"We had to go for local talent to ensure the day had a sense of belonging," said Otoyo who applied a similar method during Mashujaa Day celebrations last year in Kisii.
He has injected a new style from the past public holidays, where traditional dancers from different cultures were brought in and subjected to a pass out parade that had grown boring aesthetically and in social commentary.
This approach has not only given room for new creative to explore possibilities of different tunes, but has also brought a new lease of life for many an artiste languishing due to the harsh effects of Covid-19 pandemic on the entertainment industry.
Take for example, Dr Osito Kalle who has been in the doldrums for quite a while.
"I am honoured to have been involved in the Madaraka Day event. I would like to thank Otoyo and his colleagues, who helped us do a wonderful job," said Osito Kalle, who sang Ndesna Bwoyo beside his other numbers Rapar Awino Lawi and Achieng' Millicent.
Other musicians who shared in the wazalendo glory include Dolla Kabarry, Ongoro Jakarachuonyo, Linet Aluoch Pamba and Jovah Kamica.
Freddy Jakadongo, Koffi Macadory, Achieng Nyar Rongo, Odhis Toto, Odongo swag, engineer Wuod Fibi and Musa Jakadala rendered the Ohangla tune Kenya Moja.
And having the honour of her hit Kisumu 100 played by the Kenya Army Band during Kenyatta's guard of honour inspection upon arrival at the feat, Suzanna Owiyo joined hands with Jose Langa, Alex Kamwana, Bluo Allan, Iddi Achieng' Lizzy Seme and Apesi Mnyama Mkali to deliver the melody-rich Afro Fusion number Kenya Mora (Kenya Makes Me Happy).
The Kagan Kochia dancers had their numbers reduced to just over a dozen following the death of several members due to ill health, according to their leader Alfred Migure.
And with the PPMC looking for truly authentic Luo music specifically Ramogi, the group recruited almost over 40 new members, who performed to an entire nation during the national celebration.
Rich heritage
"We had a discussion with the group leadership and agreed that the older members needed to pass the rich heritage, so we recruited new members," said Otoyo.
The team got new costumes and rehearsed daily for two months, and was soon ready to display their colourful costumes decorated with ostrich feather head gears, denoting beauty and courage.
Kagan Kochia Dancers from Rangwe, Homa Bay County was formed in 1965 and have performed hundred of times locally.
They have also performed abroad, including at the Folklife Festival in the UK and the Smithsonian Folk Festival in Washington DC.
Similarly, the graceful Dodo female dancers from Ahero Township, The CBD Kenya and Ahero Greeners Cultural Group were a sight to behold dressed in their sisal skirts.
According to Isaac Odupa, the Dodo style is becoming rare and hard to experience unless in such big events.
Thankfully, the PPMC had invested in prerecording the music in the studios to produce crystal clear videos that came out on the PPMC TV YouTube channel on the eve of the national event.
"This will go a long way in documenting the rich cultural heritage that is Kenya," said Otoyo.
And the artistes were a happy lot after getting at least Sh100,000 for their work, with some receiving up to Sh200,000. This is a major departure from the past, where pay after performing on such days was just but a token.
Otoyo reckons that artistes perform a crucial role in national development through social commentary and deserve to be paid well.
Kisumu County Government led by Governor Anyang' Nyong'o and the CEC for Art, Culture and Tourism Achie Alayi has played a crucial role in coordination and identification of talent.
Other notable artistes who took part in the Madaraka Day fete include Ati Sanna, Tony Nyadundo, Maroon Comandos, Eric Samphan, Jmal Malik, Sylvester ondiege, Sylvester Otieno and Berhumba Music Group.