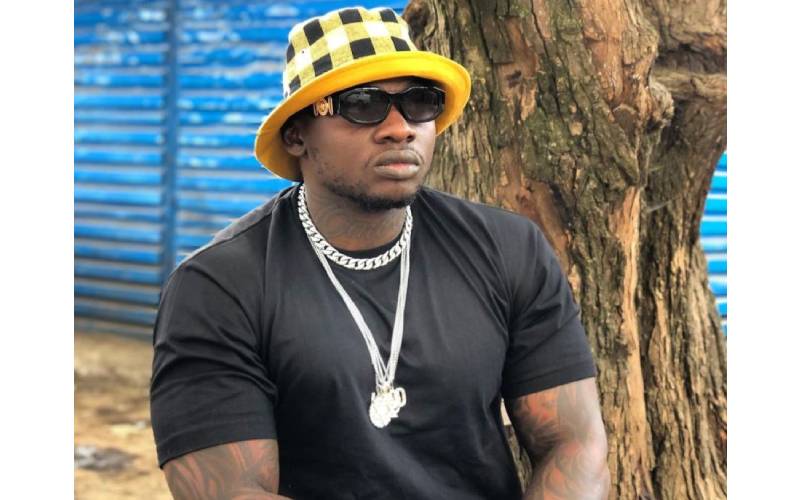 Celebrated Kenyan Rapper Brian Robert Ouko popularly known as Khaligraph Jones, has revealed very rare details of his childhood. Speaking at a radio interview, the 31-year-old rapper disclosed that he was raised in a Christian family.
The Yes Bana hitmaker mentioned that he was raised on a solid Christian foundation and revealed that his mother is a preacher to date.
"Yes, exactly. My mother is in the ministry. She is a preacher. Even as we speak, she is still ministering in the church," said Khaligraph. 
The award-winning rapper also revealed that his father passed away over 15 years ago. At the time, Khaligraph, who won the best rapper at the 2020 Soundcity MVP awards in Lagos, Nigeria, was only 12 years old.
When Khaligraph released his critically acclaimed album Testimony 1990 in 2018, he showed the world that he was still very close to his mother. A video he shared showed Khaligraph's mother praying for her son as he launched the album.
"Moms just passed by the studio to get her copy of the Testimony 1990 album, and she was really feeling track number 2 called Blessing. She also prayed for the album to be more successful," he wrote at the time. 
Khaligraph's childhood memories come when he is being accused of copy-pasting his longtime nemesis Number Nane finest Henry Ohanga aka Octopizzo's video.
The allegations were leveled against Khaligraph by Octopizzo's fan who claimed that Khaligraph had copied Octopizzo's video dubbed "Jump PYDU" while creating visuals to his (Khaligraph) new song "Nikwa Ni Nishoke."
"Enda Uone Video ya Octopizzo Jump PYDU...Alafu sasa uone video ya Khaligraph Nikwa Ni Shoke… Khali ali copy Mt Ohanga 6 years Later" tweeted the fan.
Even though Khaligraph has not responded to the claims, Octopizzo reacted by revealing that if he shared legs with his competitors, they would never walk in his shoes.
"Ya Boyz couldn't walk in my shoes if we shared legs…Keep Copy Pasting" said Octopizzo in a tweet.
He did not stop there. The 26-year-old hip-hop artist born in Kibera, the largest slum in Nairobi, Kenya, insisted that he is the biggest artist that everyone wants to be like.
"If they have or haven't compared you to the DON, just know you still have a long way to go Since 2008 been the S.I UNIT. Am all they wish they would be. OCTOPIZZO" said Octo in a separate tweet.