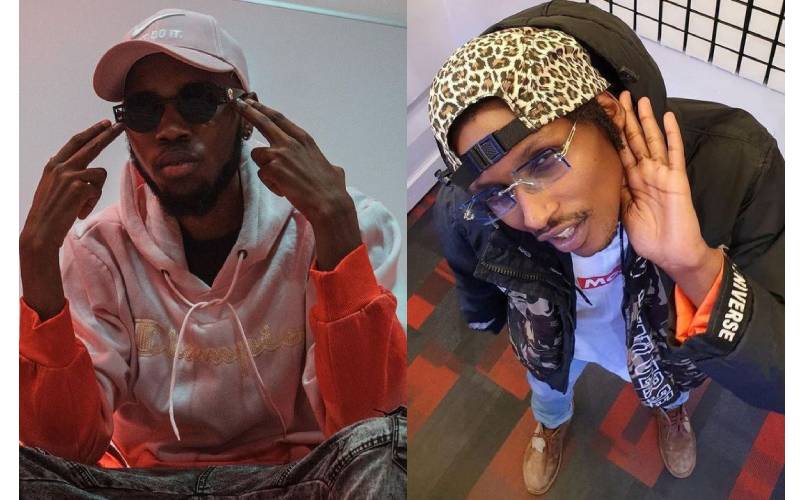 Rapper Twennyeights has challenged Barak Jacuzzi to a boxing match with a Sh250,000 wager.
The two have been beefing since 2018, when an altercation between the two saw Twenny leave Barak Jacuzzi with bruises after physically attacking him in his home. The spat ended up with Barak Jacuzzi reporting the issue to the police and Twenny being apprehended over the assault. However, seemingly they are still going at it in the latest news of their tensions.
"He is deceased to me. We need a location. Someone set this up," Twenny told Standard Entertainment&Lifestyle of a boxing match between the two to iron out their issues in a past phone interview.
Barak Jacuzzi has responded in screenshots seen by Standard Entertainment&Lifestyle and has opted not to bow out, further intimating he would knock Twenny out without failure, and the beef is beyond music.
Beef History
The two entertainers were friends hitherto their 2018 disagreement until a fall-out over some money in a deal gone bad transpired. Since then, the two have traded words and subs in songs performing back and forth in songs and features they are involved in.
The feud escalated when Khaligraph Jones enlisted the rap duo TNT on his Khali Kartel cypher in 2018, and the pair walked all over Barak's name on their verses. At the same time, Barak Jacuzzi and Octopizzo-affiliated rap group AD Family (that is home to Shrap god Boutross) responded with their version of the cypher taking the highway and taking shots at Twenny in the song.
The two rappers have been dissing one another, bragging about who has more money than the other. Finally, in 2021, the two might enter the ring in a pay-per-view celebrity boxing match after years of back-and-forth to solve the friction.