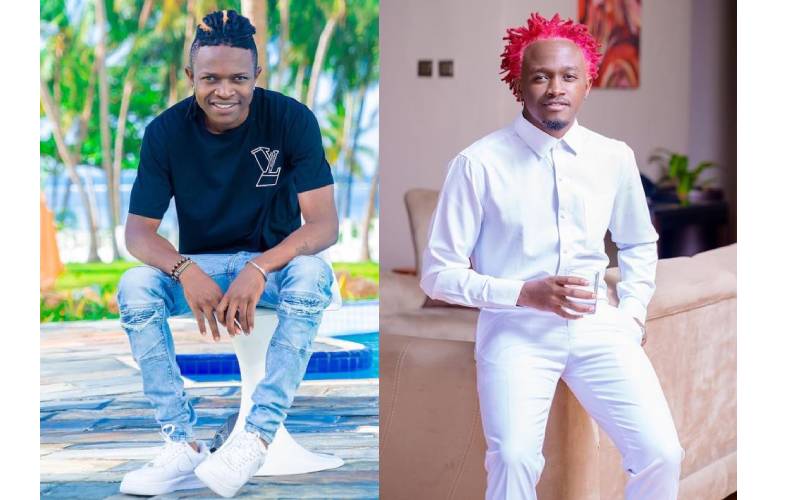 Last week, controversial gospel bigwig Bahati released his album 'Love Like This' featuring artists such as Nadia Mukami, but not everyone was pleased with the historic release.
Gracing the album launch at the Trademark Hotel, the event was graced by several VIP guests from celebrities Shaffie Weru, Eric Omondi, Diana Marua, just to name a few.
Among the posse was fellow gospel artist, Mr. Seed - the former signee to Bahati's EMB record label, who was dressed in a James Bond-like dapper black fitting suit looking like the ultimate villain and a show stopper at one of the classiest fashion forward parties filled with glitz, glam and exoticity last weekend.
"I am just waiting for this Bahati hype to die out," said Seed with a sinister smile when asked about details of his own upcoming album.
"I'm just here to support good music and a fellow artist," he added when asked what his relationship status with Mtoto Wa Mama was while coyly picking his words carefully.
He intimated he would have a much "different and continental album" once he releases his full-length body of work with features from Ghana, South Africa, and across the African peninsula.
Bahati's album was reportedly marketed in New York's famous Times Square billboards and received both rave reviews and critique from media and fan fraternity.
Seed and Bahati have unresolved issues dating back to 2019 when the EMB Boss Bahati alleged he made Mr. Seed's career by signing him to his label and that the latter owed him a lump sum of Sh6 million. The matter was dragged to court with an injunction by Bahati to his former employee to pay the fine.