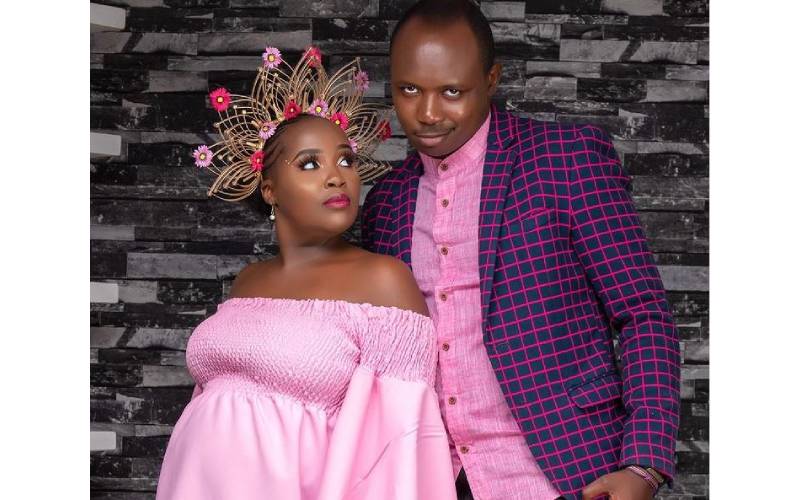 Gospel singer Kymo Music and his wife, content creator Raych Gitau, better known to her fans as PikanaRaych, have welcomed their second child.
The couple revealed the exciting news via social media, and their fans could not keep calm.
"See God, baby girl: one of the most beautiful miracles in life, one of the greatest joys we can ever know," wrote Raych.
Although delighted by the arrival of their daughter, Kymo recalled being trolled nine months ago for announcing they were trying for a second child.
In his explanation, a section of online critics dismissed their efforts, terming them as a scam, unaware of what God had in store for them.
"I remember 9 months ago I posted a photo of us in coast and I made a joke caption "We have gone to make baby number 2"…some hater came to my comment section and started to heavily curse us (who I later learnt that they had been paid and sent). They said it would not happen and we are just a bunch of scam trying hard I dont know to do what… But God is not a man!!
"To me it was a joke but kumbe God alikua anaisoma…now here we are…So today I'm prophesying to you that If anyone has said any evil word against you…may it boomerang back to them in a speed seven times faster…may they fall in the same ditch they dig for you… May God inturn bless you in the exact opposite they curse you with. May you prosper in both your soul and in your material world," he wrote.
With their bundle of joy safely back home and Raych in perfect health, Kymo took the opportunity to appreciate his wife for her unmatched strength in carrying and birthing their baby.
"This beautiful lady @pikanaraych_ is a very strong woman and from her womb has come forth the most beautiful thing my eyes have ever gazed upon, in my entire life… I want to say "Thank you my love" You have done me proud," he wrote.
Near-death pregnancy experience
Before the conception of their baby girl, Raych almost lost her life after suffering an ectopic pregnancy.
"I got an ectopic pregnancy, for those people who are probably wondering what that is, it's a pregnancy that happens outside the uterus. A fertilized egg does not attach itself to the uterus. In my case, I got pregnant and my egg got fertilized in the fallopian tube. It raptured and I ended up losing my left fallopian tube," she said.
Raych's situation, unfortunately, worsened after a misdiagnosis, putting her life at risk. She was lucky to meet a doctor who saved her, but unfortunately, she lost one of her fallopian tubes due to the extent of damage caused.   
"I saw God when the doctor came into my room and told me that God loves me. Imagine a doctor telling you that. He continued to tell me that they couldn't save my fallopian tube; it had raptured beyond repair and because I was not bleeding, which resulted in a huge clot. He said he was surprised I was still alive," she concluded.