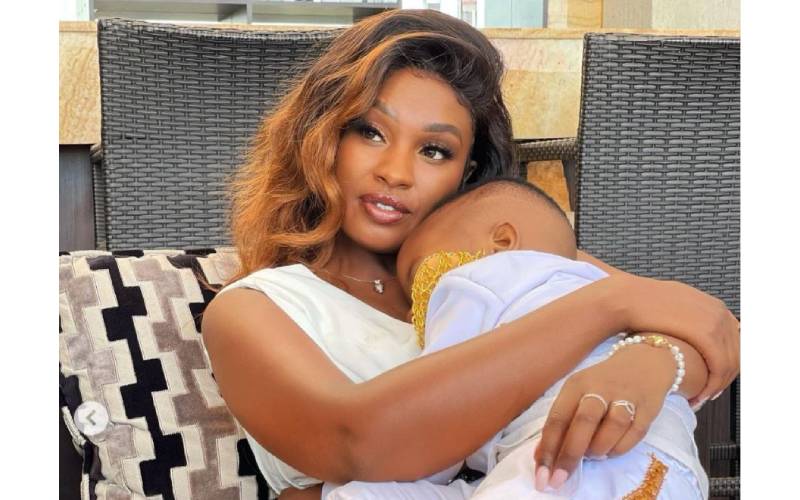 Content creator Maureen Waititu and Fitness trainer Frankie JustGymIt's youngest son Kai has turned three years old.
In celebration of Kai's special day, Maureen penned a heartwarming birthday message for him on her social media page, describing him as cheeky, curious, and pure at heart.
The former Rembo TV show host admitted to being impressed by Kai's individualism, despite being the baby of the house. She concluded her post by wishing him a happy birthday, filled with God's blessings.  
"My baby boy turns three today. Kaikai you may be only 3 now but often you make me wonder if you are turning 30 lol! You are so cheeky, curious and pure at heart and I'm so grateful that even though you are the baby of the house, you are always so vocal about what you want and don't want.
"You have been nothing but a blessing from the start. You were born to be special, one of a kind with the most beautiful soul, beautiful mind and beautiful heart. I pray that you may be brave each day God gives you to be a man of value and blessings. I love you baby boy. Happy birthday." She wrote.
Frankie, on the other hand, is yet to wish his son a happy birthday publicly.
During their eldest son Lexi's birthday last year, the couple got into a heated online brawl over how to go about the celebrations.
According to Frankie, he was barred from picking his son for an outing to mark his special day. Because of this, he opted to wish him a happy birthday online instead, a move that infuriated his fans.  
"Since I have no access to you, I'll pass these words on and hope they find you. Be true to yourself always. Live your own dreams. Don't take life so seriously. And, last but certainly not least, know that I love you and will always be there for you. No matter what, I've got your back. You are my son and always will be. Happy Birthday, Lexi," he wrote.
Defending herself after backlash from netizens, Maureen explained that Frankie was not actively present in their children's lives and only wanted to see them when he felt like it.
"Sadly, he had to use a platform to wish my son a happy birthday and dragged my name into it, only for me to be trolled and attacked. Frankie does not even know where his children live and has not bothered to find out.
"I told him he could take the kids today and even before I could tell him Kai was unwell he stormed off and I had to follow him and tried to block him asking for us to talk but he did nothing. He just sat in his car and he was on the phone before finally telling me 'you are going to hear from my lawyers.' That's where the narrative began, that I have stopped him from seeing his kids, I'm blocking him from seeing his kids," responded Maureen.