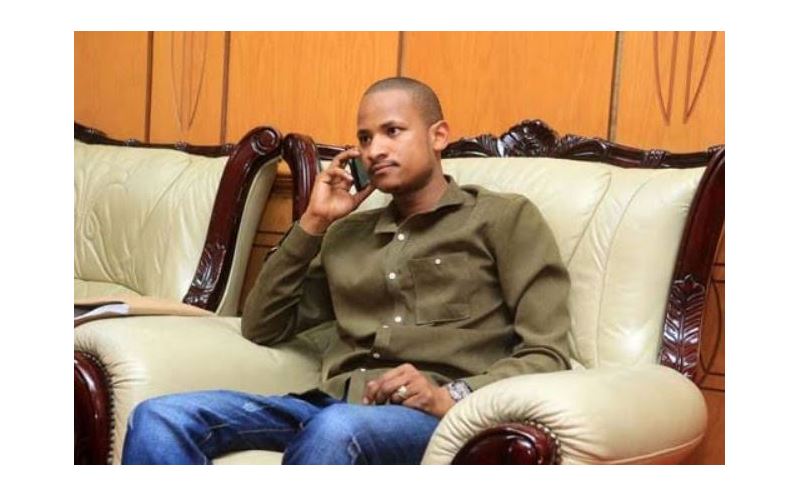 As the faces of his colleagues turned green with spite at every word David Murathe said on Thursday, Baby Owino, sorry, Babu Owino, could not hide his excitement.
The mhesh for Embakasi East sat restlessly, constantly adjusting his minute frame on the stout leather seat that cost Wanjiku one of her kidneys. His fingers lingered around his face, pulling his mask up and down depending on his prevailing mood.
Whenever his fellow wahesh lashed out at the Jubilee vice chair, the first-term MP pulled the mask up.
When it was Murathe's turn to have a go at the MPs, he pulled it down to reveal a smile plastered on his face. The smile turned into a smirk whenever Murathe unleashed a punchline on one of Babu's colleagues.
The story of Babu's unmatched joy at the sight of Murathe can be traced to the previous Thursday when the Jubilee vice chair skipped a meeting with the wahesh from the Public Investments Committee.
According to the MPs, he had chickened out after promising to give them the lecture of their lives.
For the 'perennial' student leader, it was a one-off opportunity to forget about the seriousness that his new occupation demanded. Babu had never thought that life as a mhesh would be as boring as it had been.
Murathe showed up all sharp in a crisp black suit, carrying documents, which, in Babu's eyes, may have passed off for notes. "I am not drunk," he said before briefly reading out one of his documents.
And like a seasoned lecturer, Murathe dropped the documents, choosing to go off the cuff when answering questions.
"Murathe Tibim!" the son of a chang'aa brewer must have been dying to shout as he marvelled at the sight.
As his colleagues made futile attempts at giving Murathe a hard time, Babu chose to prove that he was a model student. He began by shooting his arm up several times into the air to grab the committee chair's (Abdulswamad Nassir) attention. Before he lost his patience and caused a ruckus, Babu fooled everyone that he was a properly mannered schoolboy by fighting the urge to shout out, "Teacher! Teacher!"
The holder of several degrees further showed that he had read ahead and was almost done studying the chapter on proverbs. "You have two ears and one mouth so that you listen more than you speak," he told a colleague who had called him out for noise-making.
When the guest lecturer left, Babu's colleagues asked for an internal meeting, perhaps to request their brightest classmate to offer remedial classes to avoid looking bad in future.
But Babu didn't seem interested and left, possibly that he may start early on his homework.