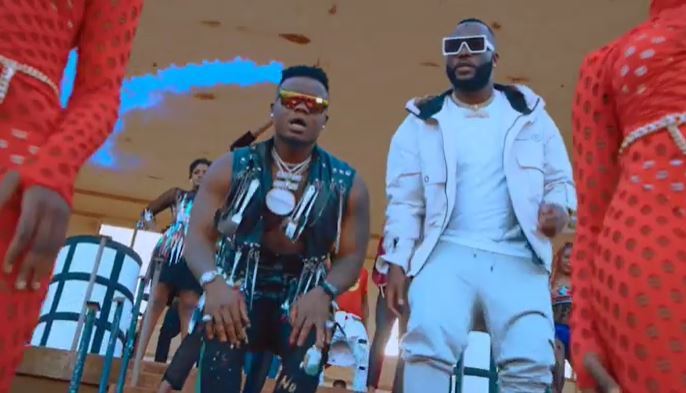 Singer Harmonize has revealed that his mother was surprised when she discovered he had done a collabo with Congolese musician Awilo Longomba. In fact, according to Harmonize, his mother never believed it until she listened to the song.
In an interview with Global Publishers, Harmonize, popularly known as Konde Boy, admitted that Awilo continues to be a big name, and he was honored to work with him. 
"Nadhani leo dunia inajionea, nikimzungumzia Awilo Longomba ndiye mkongwe mwenye nyimbo kubwa nyingi Afrika! Nimeanza kujua muziki miaka ya 1998, nyimbo za Awilo ndizo za moto…! Nilipomwambia mama nimefanya ngoma na Awilo hakuniamini mpaka alipousikiliza kwa hiyo kuwa makini unaweza ukawa unachukia kumbe huko nyumbani bimkubwa wako ni sikukuu," he said.
Harmonize also expressed his gratitude towards everyone who contributed to the success of the collaboration, which has now broken Diamond Platnumz's record after the audio hit 100K views within 44 minutes after release. 
"Shukurani za kipekee ziende kwa kaka yangu Master Garzy kwa rekodi hii, siwezi kumaliza kumshukuru kwa kubariki sauti hii, amekuwa rafiki mzuri na kaka, watu wengi wanajiuliza kwa nini H-baba? Nilikuwa shabiki wa H-Baba kabla hajawa shabiki yangu na kuwa kaka kwangu, nikisikia sauti yake namsikia kama DJ Arafat (marehemu) aliyebakia Afrika," he added.
However, shortly after the original audio's hype, the music video did not receive much attention. A look at the 'Attitude' music video on YouTube shows it gained 933,000 views 20 hours after it was uploaded.
"Hellow KondeGang FC and everybody who support my music puuzia kila mnachokiona youtube don't blame anyone enjoy the music period ...!!!! #attitude i s s s a blessed sound oyaaa..!!! LINK PA BIO ft @awilolongomba & @h.baba_" Wrote Harmonize.