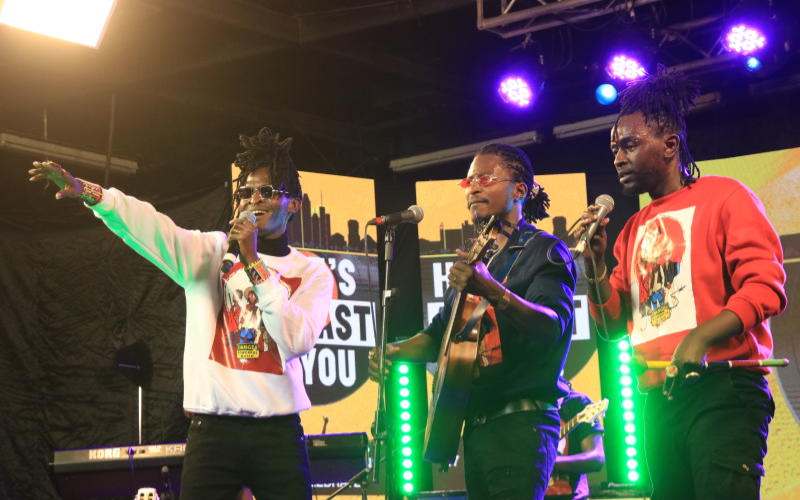 Boy band H_art The Band have joined the list of entertainers appealing to the President to open up the creative industry. The Uliza Kiatu hitmakers have attributed their delay to launching their Simple Man EP to the presidential rule barring social gatherings.
"The EP is complete and we were scheduled to drop it by the end of this month. However, we are forced to hold on to up to possibly July due to the health guidelines and Presidential directive," they revealed.
New entrant Breeder LW is also sharing similar sentiments urging the president to be more lenient. "We have no option since albums are expensive to produce and we always capitalise during the launches to get our money back," he said.
"That's the reason my team and I decided to hold the launch and assess the situation." Earlier in the week, rapper Khaligraph Jones wrote to the Deputy President and ODM leader to intervene and persuade the President to listen to their woes.
The DP responded and is set to meet up with artists to craft the way forward. Elsewhere, exponentially rising video director and cinematographer Omoke is on the verge of scoring a huge video with British-based Afro-swing and Hip-Hop/Rap group NSG.
NSG famed for their bangers 'Lupita' and 'MCM' off their debut mixtape 'Roots' that popularised them last year, have been known to have a beautiful relationship with their African fans, including Kenya.
In a leaked DM by director Omoke, he shared a snippet of a chat between himself and NSG lead member Papii Abz who sent him an ecstatic voice note where Papii mentioned "he can't wait to come to Kenya and link"
Papii was joyous all through the recorded audio and co-signed Kenya's latest creative behind the lens, alluding to Omoke's work "making his day" and that it's about time they put in work.
This gesture further puts a stamp on Omoke's CV after the fast rising director has been behind some of Kenya's most pop cultural motion pictures in the past year.
Some of his work includes Buruklyn Boyz culture shaping 'Nairobi' soundtrack, 'Pepeta' by Rekless and Benzema, 'Sana Up' by Kahush, among a host of other records that are underground anthems.