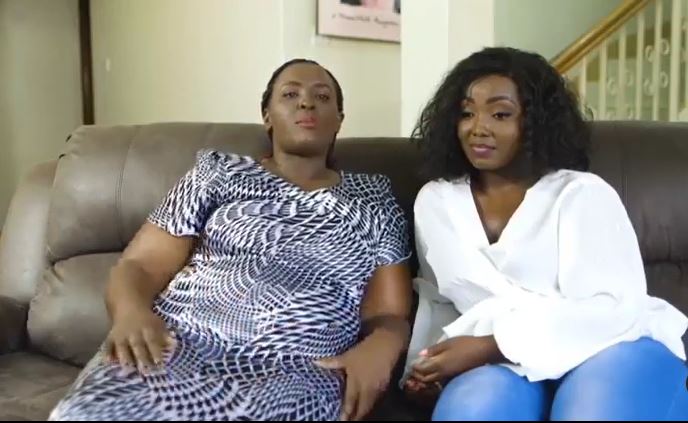 Kate Actress has never shied away from telling her story on how she became pregnant at 19 while studying in Uganda. In a previous interview, the actress narrated how she broke the news to her strict mum and her reaction to the pregnancy.
On Thursday morning, while celebrating her mum's birthday, Kate posted a video of her mother narrating how she felt when the actress broke the pregnancy news. 
In the video, Kate's mum, who exclaimed in Kikuyu dialect, says she lost her mind after the news that she even went to the bus stage with her skirt inside out at some point.
However, what scared Kate's mum the most was how the dad would react to their 19-year-old daughter getting pregnant. 
However, despite the pregnancy, the former Mother-in-Law actress went back to school after giving birth. She became a full-time mother while studying. 
While speaking to Kalekye Mumo about her first pregnancy journey, the mother of two said her son's arrival 14 years ago changed her life because she had to mature quickly and take care of him.
"I had just joined campus in Uganda I grew up with my very strict mum. This was my first time alone, first time away, exploring. Haki hata sikumaliza 2 months nikajazwo! It happened and life changed I had to come home and have my baby," narrated Kate.
When she got back, Kate says she was lucky not to find her mum home as she was away in South Africa studying. She wrote her a letter where she apologised profusely for disappointing her.
"I wrote her a very huge letter apologising. I think that was her greatest fear, me getting pregnant, because she got me when she was very young but I disappointed her."
Despite being a teenage mum, Kate has pleaded with young girls not to get pregnant before reaching their dreams. She cautioned that young girls should not look up to her and think that because she made it, everything was going to work out for them too.  
"Can we stop telling young girls it's okay when they fall pregnant? Because it's not! Just because the person you look up to made it doesn't mean you will, we are different, and we come from different backgrounds. Think about your parents, who are sacrificing everything for you. If you are already there, please learn from it and be rest assured, your life will never be the same, it's not about you anymore," said Kate in an Instagram post.